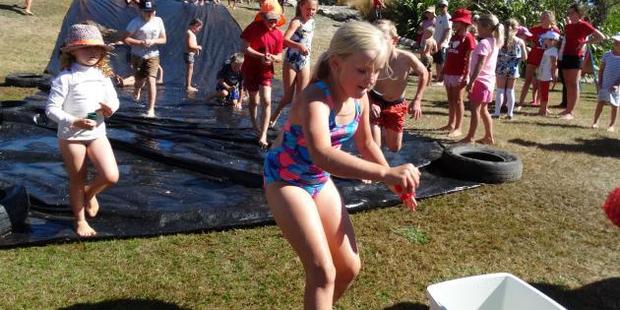 Clear blue skies and a hot day prompted hundreds to attend the annual Waitangi Day Hawea Town v Country Challenge yesterday at Peter Fraser Park.
It was the 13th year Hawea resident Colleen Carr had organised the event, which she said was originally inspired by her living in Australia for 24 years.
''Australia Day was always such a day of fun and celebration, so when I came back here I thought Waitangi Day should also be a day where the community can get together,'' she said.
Country competitors and supporters were designated as being from Hawea Flat, John's Creek, Maungawera Valley and all areas in the Hawea School Zone.
Town competitors and supporters were from anywhere inside the area bordered by Muirs Rd, Gladstone Rd and the lakefront.
Mrs Carr said the town perimeter might change next year with the expansion of Hawea township into the Timsfield subdivision.
Team sports such as golf, bowls, petanque, netball and touch football were played yesterday.
In the afternoon the festivities included a tug-of-war, lolly scramble and tennis ball catch with the balls being shot out of air cannons.
Mrs Carr said the event was a great way ''to meet your neighbours and to help build a strong community''.
She said many came from Albert Town to join in and they would welcome anyone from Makarora.