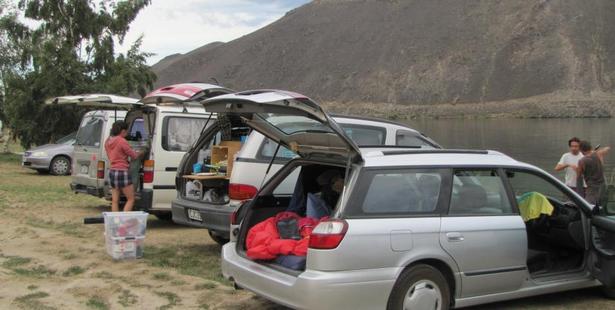 The mayor of Central Otago has expressed his thoughts and frustrations about freedom camping in the district, writing a 1500-word post online at the weekend.
This follows public concerns about freedom camping in the district this summer, in particular around Lake Dunstan.
"If I could, I would employ someone with a high-powered slug gun and a decent scope to take aim at the bare backside of anyone seen defecating in the open and I would put people who dump litter in our beautiful places in public stocks," Mayor Tim Cadogan said.
Although some residents had suggested a bylaw, he wanted them to understand the Central Otago District Council had no control over the Lake Dunstan foreshore as it was administered by Land Information New Zealand (Linz).Therefore, the council could not implement a bylaw.
He said even though there was a strong call to ban freedom camping outright, the Freedom Camping Act 2011 said territorial authorities could not ban it.
"Until or unless the Government in Wellington decides to place a ban on freedom camping, it is here to stay."
Furthermore, he did not think a national ban would be likely as it would be ineffectual.
The council devised a freedom camping strategy in 2010 which aimed to provide suitable places for freedom campers, encouraging people to stay in places with toilets and bins.
Even though he admitted the congregations of campers could be "unsightly", he said he would rather have campers gather in places where the camping could be managed by authorities.
He believed the strategy was working.
"The council's camping survey shows a significant drop-off in people camping outside of the designated spaces since the strategy was introduced in 2010.
"In other words, they are mostly going where they are allowed and where the effect can be managed."
But he was happy for the public to suggest other options.
"If anyone has a better strategy within the confines of the reality that we cannot ban freedom camping, then I would love to hear it."
Mr Cadogan said he would meet Linz in Wellington in early March to discuss options.