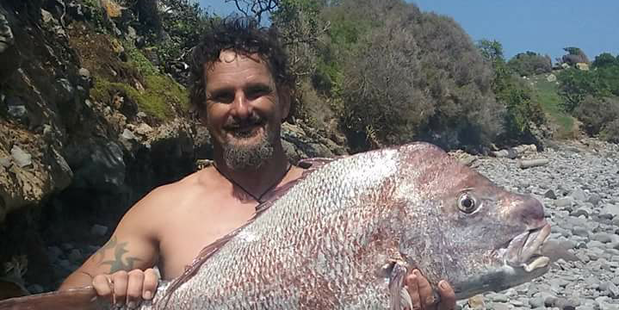 Fishermen are known for their tall tales but one angler who caught a monster without a rod, or any fishing gear for that matter, has a picture to prove it.
Taranaki surfer Jayson Growcott fished a 11-kilogram snapper out of the ocean with his bare hands in a move he says he "wouldn't believe" unless he had seen it himself.
On Saturday while out on one of his frequent surfs at Pinoho Rd, about 10km south of New Plymouth, he spotted something out of the corner of his eye - a distinct pink fin.
At first he disregarded it and kept paddling out to the break but after spotting it again he decided to investigate the cause of his distraction.
"I saw the pink tail again and paddled over."
When he got within a metre, he sat on his board hoping to formulate a plan.
After sitting for a time he was sure he had spooked the fish.
But, strangely the fish spun around to face him and swam directly towards him until it was within reach.
He then extended his arms out and handled the fish by the tail and the gills and lumbered the 26-pound beast on to his surfboard.
As someone who had been a commercial fisherman and lived by the beach all his life, he had never seen anything like it.
"I wouldn't believed it if I hadn't see it myself.
"I filleted it up and ate it. It was beautiful."
A day later and he was "still buzzed".
His friend was paddling out while he was coming back in and, from afar, he thought he had snapped his board.
His wife, who ironically mentioned before he left she was "hanging out for a feed of fish" got her wish.
"She was in disbelief."
He said it was "a once in a lifetime thing" and didn't expect it to ever happen again.