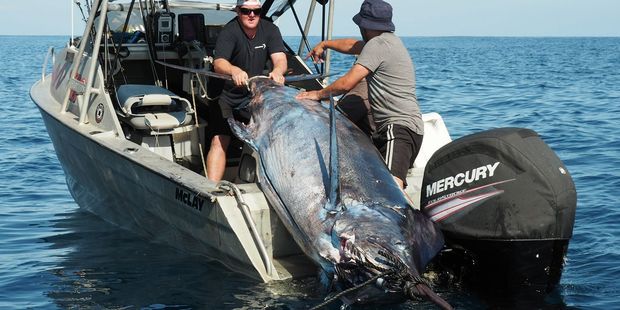 In case you missed it: This was one our most-read stories of 2017
A group of Auckland fishermen have pulled in a monster blue marlin off Ahipara in Northland.
The 466kg beast was nearly as big as their boat, and was caught by three members of the Muriwai Sports Fishing Club on Saturday afternoon.
Club president Stan Phillips told the Herald huge catches "weren't that uncommon" by Muriwai Sports anglers.
"We tend to pull in some good ones. There's been a couple of other blues caught off the west coast by Muriwai boys," he said.
Phillips said the fish was the heaviest ever caught by a member of the club.
"As far as I know ... there's been a 380kg blue caught in 2009 ... but I think it was on 60kg tackle."
Phillips said the man who snagged the fish, Wade Wilson, was a first-time angler.
It was caught on a 37kg line, onboard Hot Lips skippered by John Giford.
Photos of the marlin onboard the boat show the huge scale of the catch, which took two hours to haul in.
Phillips said the club was looking through the history books to see how the monster catch stacks up, but he believed it was the second-biggest blue marlin ever caught in New Zealand.
The three men aboard the boat were stoked with their haul when they got back to shore, according to Phillips.
"John rang me on the way in ... they were just over the moon, they couldn't believe it. You can just tell how stoked the boys were.
"John had been fishing hard with no luck ... to hook a fish of this size, especially for a first-time angler ... and to land it in a little tinny like that. It's amazing really."
In January, a huge marlin weighing nearly 350kg and taking about three hours to catch was hauled in off the coast in Northland.