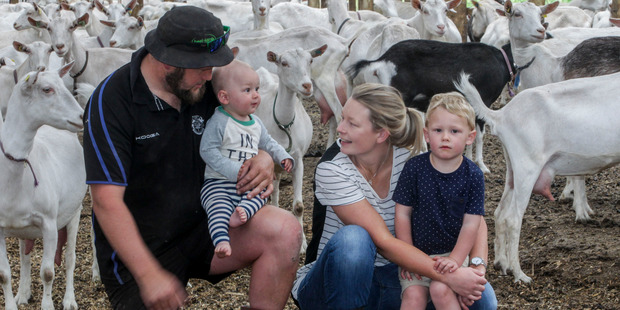 Anyone driving south on Middle Rd from Havelock North might have wondered what the big shed up on the right about 16km out of town was for.
It is home to almost 1000 dairy goats, a handful of bucks and 400 young doe replacements.
Tukituki Dairy Goats is very much a labour of love for Lydia Baty and husband Sean.
The couple, who met when Lydia was still at school and Sean was a cadet at Smedley Station's training farm, began work on their project in January 2015. They milked their first does that June.
Lydia grew up on the farm where their operation is based. It belongs to her grandmother and she and Sean carved off a hectare to build their shed and 80-bale milking shed.
Her father David Phillips continues to run the rest of the farm as a sheep and beef unit.
Lydia, 28, first came across milking goats when she went to Te Awamutu as a rural manager for the ASB Bank.
"I decided I wanted to do that, but back in Hawke's Bay."
She and Sean, 29, spent a year learning the ropes on a Waikato goat farm as contract milkers.
"It was a huge learning curve."
The couple returned home in 2014 to begin work on their own dairy farm as Lydia was pregnant with Harrison who is now three. Then Max was born in December last year.
The couple had a full-time nanny as they were building their shed and securing supply contracts but now that the hardest work has been done she takes care of the children.
The goats, housed in a roomy, airy shed all year round, are a saanen-toggenburg cross, with some nubian goats.
They are milked twice a day at 5am and 3pm. It takes about eight minutes for slightly more than a litre each milking. The does produce an average of 3.3 litres of milk each a day and every two days a tanker collects 6500 litres and takes it to a plant in Hamilton where it is turned into whole milk powder to be sold to China.
They employ Andy and Natasha as their full-time staff with three casuals — Sean's mother, Lydia's cousin and a university student.
The goats are kept inside for ease of management, fed a mixture of grass and lucerne silage, palm kernel and a corn byproduct of beer making.
Blood and milk are regularly tested to ensure their needs are met and their feed adjusted accordingly. The shed has an earth floor with wood shavings, renewed weekly.
Because they don't graze on grass internal parasites are not a problem and they are given an annual preventative treatment for lice.
Kidding in June is the busy time with twins and quintuplets not unheard of. The kids are hand-reared until they reach 18kg. Surplus buck kids are sold on for finishing and the does are mated once they reach 35kg. Then they are milked until the early winter when they have a six-week break before kidding again. The Batys love what they do.
"I feel privileged to do this at our age." Her next projects could include goat yoghurt and cheese.
"Watch this space."