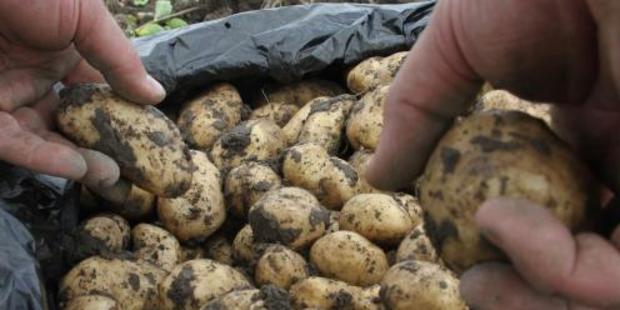 North Otago's well-known Jersey benne potatoes are finally in full harvest, in time for Christmas.
One of the biggest producers, Armstrong and Co, has a large crew working flat out to keep up with demand.
Owner Peter Armstrong said the earliest crops planted this year had been affected by rainfall in July. North Otago was particularly hard hit.
It was then a challenge to have the later crops ready for the Christmas market.
The later crops had fared better than the early ones, Mr Armstrong said. They tasted great, thanks to the local soils that were renowned for imparting a unique flavour to Jersey bennes.
Rain had again interfered last week. Steady falls on Wednesday forced digging to be postponed both that day and the next and further rain at the weekend caused more delays.
Mr Armstrong said there seemed to be a general shortage of Jersey bennes, going by the number of phone calls he and other growers had received.
''The phone's been ringing off the hook. We can't do any extra orders.''
The demand for Jersey bennes always continued past Christmas, he said.
Armstrong and Co worked with other growers to try to maintain a continuous supply of Jersey bennes throughout the season.
Potatoes New Zealand has been promoting the ''humble potato''.
''All New Zealand-grown potatoes are GE-free and packed full of health benefits,'' it said.
''They are fibre-rich, have more potassium than a banana and are bursting with vitamin C. Easily digested, full of antioxidants, rich in minerals and they make you feel fuller for longer.
''Their short season means we all need to make the most of their delicate skin and sweet, tender flesh. We encourage you to get those premium new-season potatoes on your menus now - while they last!''