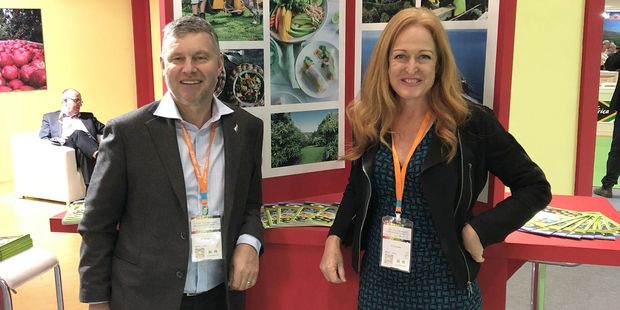 It was a momentous occasion for our new chairman Tony Ponder and I to hear at a meeting in Beijing that the protocol for access for New Zealand avocados to China would be signed in New Zealand on November 15 this year.
We were at a formal meeting between China's General Administration of Quality Supervision, Inspection and Quarantine, AQSIQ, and the New Zealand horticulture companies attending the China International Fruit and Vegetable fair, FVF.
It's the fourth year we have attended as an industry. The first year Alan Pollard, New Zealand Apples and Pears CEO, suggested it, he had successfully negotiated for New Zealand to be the partner country.
He wanted the New Zealand stand to showcase a number of horticulture industries, there was good opportunity to get in front of officials, and we know that success in a market includes building long term relationships that take time. The stand we built was a red marae inspired pavilion — a style we have used at every show since then.
This year we joined New Zealand Apples and Pears, Rockit apples, T&G Global, Zespri, NZ Persimmons, NZ Onions and Plant & Food Research on the New Zealand pavilion. The show itself was twice as large as the previous year and livelier. It is a political tradeshow, sponsored by the equivalent of our Ministry for Primary Industries.
Avocado certainly featured on a number of country stands, without a doubt the 250 per cent year-on-year growth of avocado imports into China demonstrates a very attractive opportunity for many countries.
It is a commitment to attend these shows, but our experience suggests that it demonstrates to the Chinese officials a commitment to the China market, it allows us to understand the market before we are exporting, and it allows relationships to be developed — all very important for successful trade.
Exporters and NZ Avocado are investing in market development for future volumes of New Zealand avocados — committing to a sustainable industry.