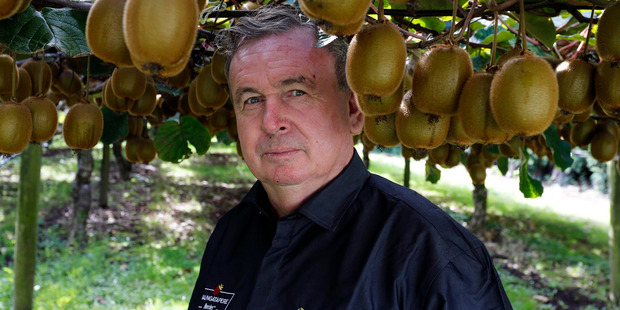 Northland's kiwifruit industry is worth about $20 million a year and the much-loved fruit is starting to be picked from the region's vines, ready for domestic and export markets.
Northland Kiwifruit Growers Association representative Dermott Malley said it's going to be a good season for the region's kiwifruit growers.
"It seems it's going to be a pretty good year for us. The crops have developed really well, in terms of the taste, and I'm expecting the first gold (SunGold kiwifruit) to be coming this week," Mr Malley said.
"The gold is doing really, really well and while the green kiwifruit crop may be down slightly this year, there's an increase in value."
Northland's kiwifruit crops is worth about $20 million and is mainly grown around Kerikeri and Whangarei.
Because of its recognised quality, New Zealand's kiwifruit crop amounted to only 20 per cent of the international market but more than 50 per cent of its value.
Kerikeri orchards were hit fairly hard by the bacteria Psa, which decimated Bay of Plenty vines in 2011 through 2013.
Growers have been able to bounce back with the new SunGold variety that is more resistant to Psa, Mr Malley said.
Nationally, more than 2500 growers will be harvesting some 12,000 hectares of kiwifruit which will be marketed to over 50 countries, with the season ending in May.
The harvest of the SunGold variety for this season is expected to be significantly more than the harvest last year, while the green Hayward variety is forecasted to be less across the whole country.
New Zealand Kiwifruit Growers Chairman Doug Brown said New Zealand has some of the best growing conditions in the world for kiwifruit.
"Many areas were affected by wet weather which has delayed the start of harvest, but most of us can now roll up our sleeves and get picking and packing," Mr Brown said.
Around 10,000 permanent workers are employed in the kiwifruit industry with an additional 8000 seasonal workers who pick and pack kiwifruit.
Of these seasonal workers, a small minority are Recognised Seasonal Employer (RSE) workers who play a crucial role as labour shortages are a real problem for the kiwifruit industry around the peak of harvest time.
The kiwifruit industry is recovering from being hit by Psa in 2010 and has been growing strongly, with Zespri's total sales returns for the 2015/16 season around $2 billion dollars.
As New Zealand's largest fresh fruit horticultural export, the kiwifruit industry also profits the regions where it is grown.