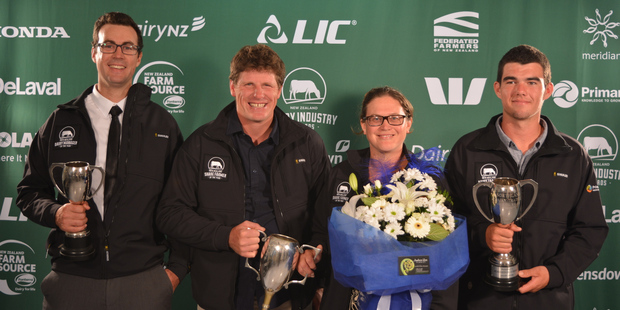 Niall and Delwyn McKenzie, who have won the 2017 Northland Dairy Industry Awards Share Farmer of the Year title, focus on low costs, sustainability and simplicity in their work on a 100ha Kaiwaka farm.
They say after farming on large and smaller farms in Northland, Australia and the South Island, they love living in Northland, where people appreciate the Keep It Simple (KISS) farming philosophy they follow as 50-50 sharemilkers for Rodger and Jan Comrie, milking 230 cows.
The McKenzies were named Northland Share Farmers of the Year at the region's annual awards dinner in Forum North at Whangarei last week, collecting $8333 in prizes.
The other major winners were the 2017 Northland Dairy Manager of the Year Greg Imeson, of Hikurangi, and the 2017 Northland Dairy Trainee of the Year, Blake Anderson, of Kaiwaka, who will both make presentations at the Northland Dairy Industry Awards field day on the farm where the McKenzies work at 450 Settlement Rd, Kaiwaka, from 10.30am-1.30pm next Tuesday.
The Northland winners will represent the region when the dairy trainee national final is held on May 2-6 and the dairy manager and share farmer finals take place on May 3-6.
The national Dairy Industry Awards dinner will be held at the SkyCity Convention Centre in Auckland on May 6.
Niall and Delwyn McKenzie won the Northland Dairy Manager of Year title in 2013, when they also received three merit awards and placed third in the national competition.
The couple say the Dairy Industry Awards have given them information and skills to become better farmers.
They believe their strengths lie in low-cost milk production with a focus on sustainability.
"We see ourselves as caretakers of the land. We are very lucky to be able to make the most of opportunities given to us by our awesome farm owners, who encourage us to strive for success and profitability."
Both Niall, 38, and Delwyn, 36, have one paper left to complete diplomas in agribusiness.
When not working on the farm, Delwyn is a relief primary school teacher.
The couple would like to retain their current sharemilking position, purchasing the farm by 2021.
Other Share Farmer finalists were Philip and Pia Rockell, of Kaiwaka, and Sarah Thorne and Tony Sellars, of Omahuta.
Greg Imeson, 34, who manages his mother Judy's 310ha dairy farm with 835 cows and a 150ha support block at Hikurangi, entered the awards to see where he sat among his industry peers.
He won $8450 in prizes and with his wife Janelle and their two children plans to move in June to a 200-cow farm they have bought at Poroti.
"Our goals are to successfully farm this and reduce our debt while spending quality time with family and friends," Greg says.
He is a latecomer to the dairy industry. After gaining a Canterbury University degree in structural engineering, he worked as a consulting engineer in Auckland, London and Sydney for 10 years before returning to his family's farm in 2014.
Greg had always wanted to be a dairy farmer. His father, who died in 2005, had suggested he get a degree, travel the world, find a girl, and then return to Hikurangi if he still wanted to go farming.
Balkaran Singh Sran, 30, was runner-up in the Dairy Manager competition, winning $4825 in prizes. He works on Jo and Geoff Crawford's 1000-cow, 360ha property at Hikurangi.
He placed third in the 2015 Northland Farm Manager competition and says it was a fantastic experience, which helped him learn more about farming and meet new people.
"Farming isn't my goal, it's my dream," says Balkaran. "I want to be a farm owner."
Third in the Dairy Manager competition was Jared Dean, 27, who won $3775 in prizes.
He works on Murray and Helen Jagger's Whangarei Heads property where he believes he has been given the opportunity to grow and develop within the industry.
"The owners clearly value their staff and they put time and effort into upskilling staff members and give adequate time off to keep staff motivated and enthusiastic," he says.
Other Dairy Manager finalists were Cassandra Campbell and Troy Thomson, of Titoki, and Martyn Davies, of Kamo.
Northland Dairy Trainee of the Year Blake Anderson, 19, is farm assistant on Carlton Smyth's 420-cow, 180ha property at Kaiwaka. He won $3370 in prizes and his farming goals include managing his own farm.
Titoki farms belonging to Murray and Marcelle Douglas produced both the runner-up and third placegetter in the Dairy Trainee competition. Sarah Powell, 19, placed second and won $1650 in prizes.
She works on the Douglases' 80ha property milking 230 cows. Erin Mitchell, 22, was third. He is on the Douglases' 320ha farm, milking 750 cows.
Other Dairy Trainee finalists were Henry McLeod, of Ruakaka, and Nicholas Thomas, of Riponui.