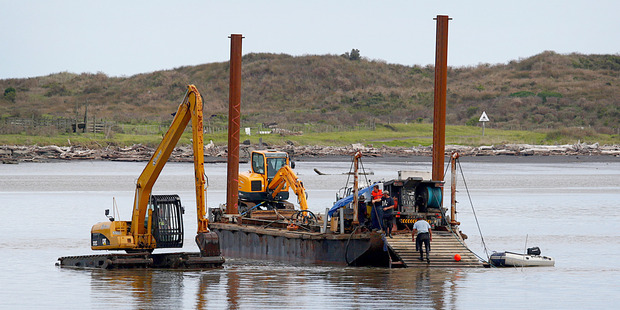 Divers and an amphibious excavator are clearing stormwater pipes on the Whanganui River, which have been blocked since the 2015 flood.
The twin pipes, which service much of Gonville, carry stormwater from Beach Rd to the middle of the river before it flows out to sea.
But the flood backed up the pipes with silt, almost covering the outfall.
Read more: Castlecliff residents concerned stormwater works will cause accidents
"So the stormwater has nowhere to go apart from a gap at the top of the pipe, about 150mm, and that's not big enough to allow the stormwater to flow out of the pipelines," Whanganui District Council 3 waters contracts manager Stuart Cawley said.
"The floor of the river was over the top of the pipes. The flood buried them."
Since then stormwater has overflowed into the Beach Rd pumping station through a non-return valve before being pumped out to sea.
"It is a cost we don't want to have so we've got to get this cleaned out and working again," Cawley said.
The work began in the middle of last month and is expected to be finished next month.
Council staff were looking at using a small digger on a barge to excavate the area but found an amphibious excavator from Whakatane.
"That actually walks in the water," Cawley said.
"It's a lot more flexible and gave us the ability to do all sorts of things without having to use the barge."
The excavator has dug a 4m hole at the end of the pipes to allow the stormwater to spill into the river and into the sea.
A jetting truck is also running up the pipe and firing water in to blow the silt out of the pipeline.
Divers will go into the pipes this week to see what has been cleared.
Cawley said the work can only be done during a daytime outgoing tide, which drags all the sand and silt out with it and into the main stream."
The council will install valves on the end of the pipes to stop the silt getting into them.