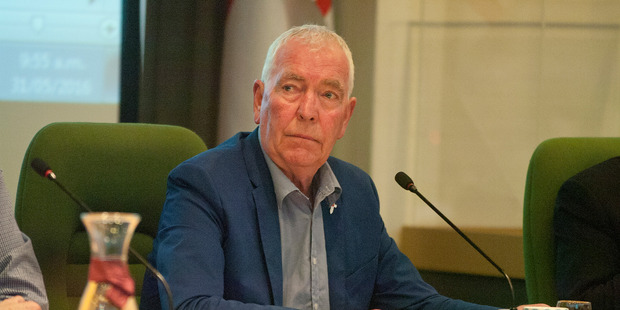 Rotorua Lakes Council has taken a step towards determining its carbon footprint- but one councillor says money should not be spent on "questionable science".
The council's Strategy, Policy, and Finance Committee today voted to support a recommendation to the full council that it conduct an inventory of its carbon and energy emissions.
The inventory would set a baseline that would inform any action plan developed in the future.
In a report to the committee, strategy adviser Niki Carling said the council had an opportunity to "demonstrate leadership to the wider community through tracking, reporting and reduction of its operational emissions, and to affect district
emissions from activities relating to transport, waste, wastewater and energy use".
"There is potential to create opportunities for energy and fuel savings and help the district to recognise and respond to new post-carbon economy opportunities."
Developing a climate change action plan with emission reduction targets would allow the council to comply with the Global Covenant of Mayors for Climate & Energy (GCoM), an international alliance of cities and local governments committed to an "inclusive, just, low-emission and climate resilient future".
Auckland, Dunedin and Wellington are all members of the coalition.
Completing the inventory in-house was expected to cost $25,000.
Two committee members, councillor Peter Bentley and Rural Community Board chairwoman Shirley Trumper, voted against the motion.
Bentley said he was "not at all happy" with incurring costs on ratepayers for what he deemed "questionable science".
Trumper said she was concerned about the impact on rural communities.
"We are feeling considerable pressure, not just from local council, we've got regional and central."
Any action plan needed to be "considered" and had to be done in conjunction with the rural community, she said.
Councillor Karen Hunt said doing the inventory would show the community the council was "taking this seriously".
Mayor Steve Chadwick also backed the proposal and said it was timely, citing the cost of the clean-up following the January storm.
"Thank goodness we've got a report."
Councillor Tania Tapsell said the council "must be leaders in this".
"We can no longer just keep mitigating."
She questioned whether discussions had been held with council-controlled operation Infracore.
Council strategy development manager Rosemary Viskovic said that conversation had not been held yet, but Infracore was "certainly one of the people in the community we need to work with".
Viskovic said there was no cost to sign up to the GCoM.
Any cost would be in the action plan, but there may also be cost savings, she said.
The full council will meet on February 28.
Where to from here
Phase One (2018)
- Set up internal 'Carbon/Energy Committee'
- Collect data from council departments
- Complete organisational carbon footprint (inventory)
- Analyse results and set targets
- Report organisational and community inventories via internationally-recognised reporting platform.
Phase Two (2018-2021)
- Sign up to GCoM
- GCoM compliance