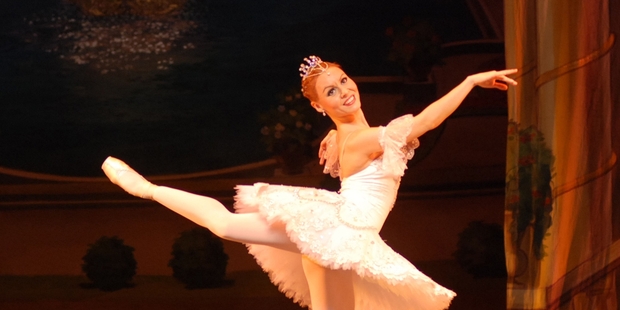 The Dance of the Little Swans, performed to the classic score by Tchaikovsky, was one of the most enjoyable moments when the Russian National Ballet Theatre presented Swan Lake to an almost full house at the TSB Showplace on Tuesday last week. The "little swans" were beautiful to watch, and captured the audience's attention as soon as they appeared.
The company are well known for their immaculate unison, and while this was mostly apparent throughout the night, at times a slight misstep would occur, reminding the audience that many of these dancers are still very young.
One dancer who could no wrong in the eyes of the audience was Bogutskyi Oleksii, who danced the role of the Jester with enthusiasm, skill and a showmanship that demanded, and received, full attention.
The energy he gave his performance led to rapturous applause, however perhaps some of his fellow dancers would have done well to borrow some of his enthusiasm.
Moskalets Mykyta was a slightly insipid Prince Siegfried, while his technique was without flaw, his personality did not come through, making it hard to feel sympathy for his character when he was tricked by Rotbart and Odile.
Lutcko Marta danced Odile / Odette and managed to give each character their distinct personality. Her Odette was less convincing than Odile though.
No-one blamed Prince Siegfried for being bewitched by Odile's seductive dance in the first scene of the second act.
As always, the lack of a live orchestra does reduce the dramatic feel of the ballet, and this was no exception. Being a touring company, performing this ballet on this stage for just one night, the company also suffered from having had only a short time to make their performance match the surrounds. When dancing with blocks, feet on stage became noticeable noisy and without that live orchestra to hide behind, the noise was a distraction at times.
Costuming was simple, and generally effective, although some either needed the attention of a seamstress or a mirror as backs of individual ones were left undone at times.
These negatives however, did not overshadow the overall performance, which brought the beauty and magic of the ballet to New Plymouth and turned an ordinary Tuesday evening into something special.