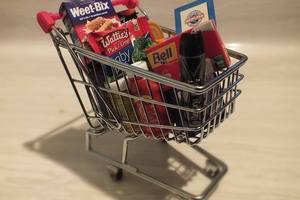 Advertisers call it "pester power"; you know, that ability children have to harangue you in the supermarket into buying a particular cereal brand because of the advertising they have seen on television.
I have cunningly avoided this in the past, by a mix of a) not allowing them to watch television with advertising on the channel and b) not taking them shopping with me too often.
The past few weeks, however, I have been fighting a losing battle.
Suddenly, my children are obsessed, not with what I buy, but with where I buy it. Thanks to a local store's latest "giveaway" (yes, I AM looking at you Stratford New World), my children suddenly have an opinion on where I shop and how much I spend.
I can't say I didn't see it coming. I saw the brochure detailing the insanely cute miniature-sized grocery items and responsibly biffed it into the recycling bin before my children could see it. I made sure to sneak out to shop when they were in bed - all was going well.
Then Typhoid Mary* came to school. This deceptively cute 9-year-old came to show and tell with a small box, crammed with the collectibles her gullible parents had handed her as they got the groceries. By the time lunch break had hit, my children had been infected.
On pick-up, I was greeted with a "Mummy, do you need to get any shopping?" from the 8-year-old, while the 5-year-old, who is as cunning as she is determined, tried "Mummy, New World sell wine, do you need any?" Through gritted teeth, I explained to them that "Mummy is not going to be conned into buying things just because they are giving something away" and drove them home. (I will admit to spending a few moments wondering if I could con the children into accepting a miniature alcohol collection as a cooler version - they could play bars rather than supermarkets ... Plus, this cunning plan would have the additional advantage of meaning I could drink the contents empty first in the name of giving my children the full collection.)
The next day, I again stuck to my guns, sneaking out to do a quick shop in my lunchbreak so as not to have them with me in the store. As I breezed through the checkout, I smugly said "no thank you" when asked if I was collecting the miniatures.
Over the next week, I ignored the pleading looks shot at me whenever New World was mentioned; I lectured the children on economics, on "there is no such thing as free". In fact, I think I even threw in child slavery and the state of the nation into my wise and insightful explanations.
I was privately satisfied when my angelic 8-year-old, on being asked if he collected them, politely said "no, my mummy says they are a pile of rubbish".
So here I sit, in my smugly collectible-free home, when I see the news headlines: "Miniatures sell for more money than the real deal".
Turns out, it isn't just children who love them. So do adults. Who are buying them for insane amounts of money online as some items have run out in store.
As I rummage through the children's rooms, hoping that one or two solitary items may have made it past my anti-miniature stance, the 5-year-old looks at me and says, "Mummy, Typhoid Mary says she and her family are going to the Pacific Islands these holidays."
* Typhoid Mary may not, in fact, be the child's real name.