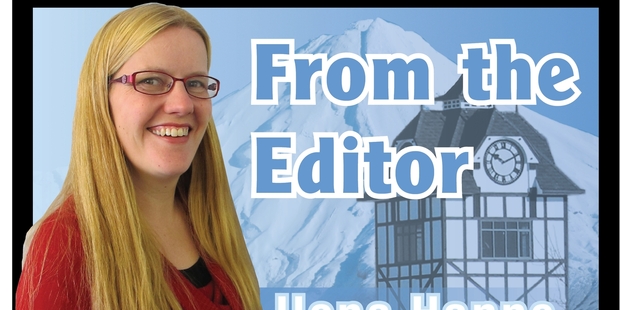 The last time I wrote this column, I was headed off to Europe to visit family; now we are back in Stratford and I owe a big thank you to Hannah, our reporter, who did an amazing job covering local news and events while I was away.
We had some funny email chats, when I was at my desk in Germany at midnight and Hannah was just finishing her breakfast, but it worked really well.
As always, our news coverage relies on our readers letting us know what is happening in their lives, so please, keep telling us what is happening, and inviting us along to cover your events.
Last week I visited two of our student reporters at St Mary's. Both Alyx and Casey are lovely girls and I am sure they will both go far in whatever career path they choose. The same can be said of our other student writers, David, Jess and Dawn. All of them do a brilliant job and I consider myself very lucky to have them working with Hannah and me.
This week, we are asking for your input as well, as we would love to hear from our readers what questions they would like us to ask the candidates for election in the local government elections.
Remember, your vote counts, and it is your responsibility to make sure you don't waste it. We are here to make sure that you have the information you need to help you make your decision.
Hayley and Ceri have been working very hard in the office, talking to local businesses and advertisers to ask them to donate prizes to our Father's Day giveaway. We have some great prizes for some great dads, so please encourage your children and grandchildren to enter.
We also have more giveaways coming next week, so keep on entering all our competitions: we love phoning the winners and making their day!
Until next time, keep on reading the Stratford Press, and keep on letting us report on your news. - Ilona