Teen rugby player flighting for life with suspected brain bleed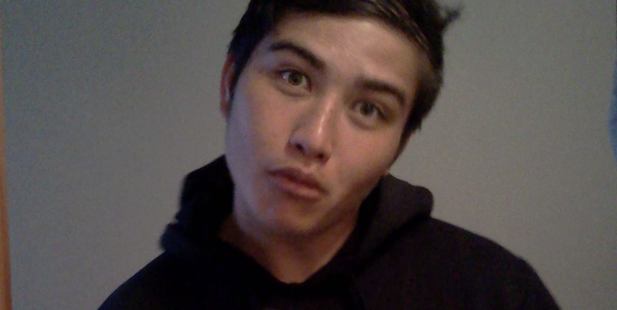 Family are rallying to support critically-injured teen rugby player Jordan Kemp, who was hospitalised in an induced coma yesterday with a suspected brain bleed.
The talented Otamatea Hawks hooker was critically injured during a rugby game in Whangarei yesterday, and remains in critical condition in Auckland City Hospital.
Kemp, who is a triplet, was knocked out after a suspected head clash during the Otamatea v Marist game in Whangarei yesterday.
The former Auckland Grammar 1st XV player was put in an induced coma by ambulance staff at the ground and taken to Whangarei Hospital. He was then airlifted to Auckland City Hospital.
His sister Crishla posted a Facebook update late last night saying Kemp was out of the operating theatre and was on life support.
"They don't think he's gana make it over night . but my brother is fighter and has to make it he has to!!!!
"He's the other half of me and god only knows the plan he has for my brother but don't take him from us now!
"Kia kaha my bro .born together ,die together." (sic).
This morning Miss Kemp posted a further update saying it "would mean the world" if family could visit Kemp.
Several replied to say they were on their way, while others posted support messages such as "kia kaha whanau" and "give the bro my love".
Jordan Kemp, 17, had been back playing for five weeks after a serious head injury at the start of the season.
One of his sisters, Crishla, was in the chopper with him and sent emotional messages to family and friends via Facebook.
"I'm in the helicopter with him ... can't talk, I'm so scared ...
"I don't want this to be the last time I get to hold him please please don't take him from me," she said.
"They said they don't know if they can save him ... "
It is understood that Kemp was being monitored for a brain bleed.
He is the grandson of Russell Kemp, a prominent rugby coach and Maori leader from Kaiwaka.
Otamatea club president Kevin Robinson was at the game and said Kemp went to the ground after the hit, but then got to his feet.
"He fell down but then got up and staggered around before falling over again," Robinson said.
"He was looked after immediately and the game was called off."
In February, Northland Rugby implemented a "blue-card" system giving referees the ability to order concussed players from the field for a minimum of three weeks. They are required to consult a doctor before returning to play.
Kemp had been blue-carded at the start of the season, had four weeks off and had been cleared five weeks ago.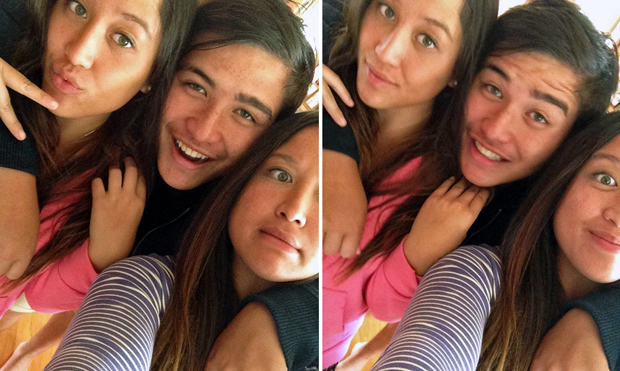 Jordan Kemp sandwiched by his triplet sisters in two casual pictures.
Robinson was with Kemp the first time he was knocked out with a knee to the head.
"That was awful. It was not nice to see," Robinson said. However, he didn't think Kemp was cleared too early and said the teen had made a full recovery.
"He was being considered for the Northland under-18s, he was doing really well," Robinson said.
New Zealand Rugby Union chief executive Steve Tew was concerned to hear of Kemp's injuries.
"We will get an accident report and respond as we always do but I will try and find out what has happened to him now," Tew said last night.
Warriors doctor John Mayhew said there was no set stand-down time for head injuries.
"Some players need a few days, some need three years," he said.
Mayhew said clinical assessments and neurological tests were needed to assess when a player could return to play.
"I would hope the people who cleared him to play made the right clinical assessment.
"Three or four weeks is probably appropriate for most head injuries to recover. But there are exceptions to that."
- with additional reporting from APNZ