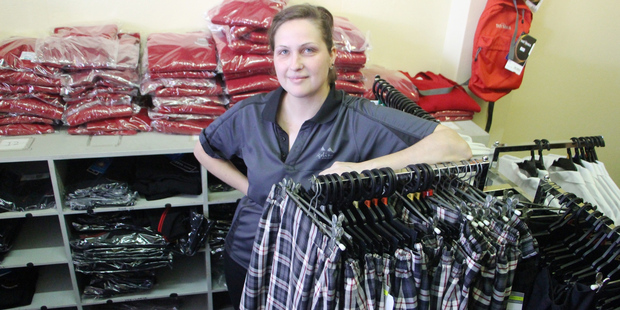 Raylee Blair says she saw it as an obvious decision to take on stocking the Stratford High School uniform in the shop she and partner David Hartley own and operate in Stratford.
"We felt it was important the local high school uniforms were available for sale in the town where the students live."
Since taking over Magnum Sports last November, Raylee says she and David have been overwhelmed with the support they have received from local shoppers.
"So this is a way for us to show our support for the town, by making sure we stock what they need."
In the past, the Stratford High School uniform has been stocked by Off The Cuff, but with that shop about to close, a new stockist was needed.
Raylee says the supplier approached them after their shop was suggested as a potential new outlet by the team at Off The Cuff.
"We said yes straight away and started working out how to fit it in."
Making it fit has meant making some changes in the store, even moving a wall further back to make space for all the new stock.
"We have also moved other things around in the shop, putting the bags we already sell with the uniform, so people can buy a school bag or rucksack along with the uniform.
"We have also taken on stocking the Canterbury Sports range so that is also in the same area."
Raylee says they plan to increase the number of changing rooms they have available in the near future to help shoppers make sure they get the right fit.
"We also offer layby and are set up to give Work and Income quotes so people will be able to get the uniform when they need it without having to leave town."