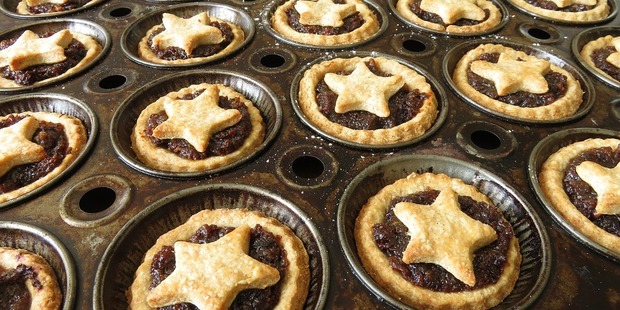 I have always loved Christmas. There is something so magical, so cheerful about this time of year.
Growing up in south west England Christmas was not so much a barbecue on the beach and more a walk to church in torrential rain, but that never seemed to dampen the fun of the day.
My mother makes what has to be the best Christmas baking I have ever come across, and my childhood memories are full of those festive treats.
From my brother and I both getting to have a stir of the Christmas pudding, to the thick layers of marzipan and royal icing on the cake, my Christmasses were always delicious. I don't think my mother ever bought mince pies from the supermarket, and I distinctly remember our regular babysitter asking to be paid in Mum's mince pies around Christmas!
I remember struggling to get to sleep after midnight mass and then the excitement of waking up to a stocking stuffed full of treats in the morning, to be opened in my parent's room while they had a cup of tea and tried to wake up fully.
Then the suspense - seeing presents neatly stacked under the tree but not allowed to open them until we had returned from church. Even then, we had to wait until mince pies had been heated in the oven, a glass of sherry poured for my mother and the Christmas day roast well underway in the oven.
Nowadays, my Christmasses are very different. My husband and I grew up in different countries to each other, so have different traditions and memories, and our three children are growing up here in yet another different country, with its own traditions and customs.
In the early days of parenting I found myself feeling stressed and worried each year. Was I creating a magical Christmas to match the one of my own childhood? Would my children look back and have happy memories of the day when they grew up?
Was I managing to replicate every tradition, every dish correctly? (I gave up on the baking - turns out the supermarket makes really nice mince pies!). I also felt guilty they weren't surrounded by family at Christmas. No visits to the grandparents or water fights with cousins as we are oceans apart from them all.
Over the years though I have realised we are making our own traditions, different to the ones we experienced as children, but no less magical or fun.
My children might not get to stir a Christmas pudding (because it's only me and our eldest child who actually like Christmas pudding) but they do get hot chocolates in the car one evening while we drive to see the Christmas lights in town.
They may not go to a Christingle service and bring home an orange each year (to be forgotten about and left to rot in a corner of a bedroom sometimes!) like my brother and I did, but they do get to choose a new decoration for the tree each year and the Christmas parade is always a highlight of the season for them, whether watching it or being in it.
And while no-one can replace family, we are lucky here in Stratford to have so many wonderful people around us who have taken on the role of adopted poppas and nannas or aunts and uncles. At the risk of sounding ridiculously schmaltzy I have realised Christmas isn't about the individual things or places, it is about the special times spent with the people around us, be they family or friends and neighbours.
So whether your Christmas is one which comes with homemade or store bought baking, family or friends, traditions old or new, I wish you all the joy of the season.
Thank you to all our readers for your support through the year and for sharing your stories and news with Alice and I.
We hope you enjoy this Christmas edition of the Stratford Press and we will be back in the office on Monday, January 8.
Merry Christmas and Happy New Year
Ilona