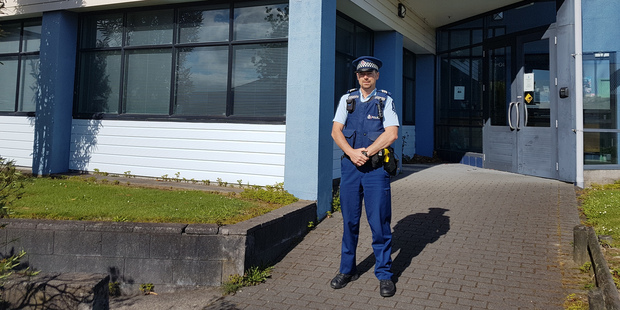 They say it takes a village to raise a child, but even more importantly it takes a community to end domestic violence says sergeant Dan White.
Dan is the police sergeant in charge of family violence and youth services for the South Taranaki policing district, which includes Stratford.
Dan says the police approach to family violence has changed through the years, moving from a prosecution-based approach to a more preventative one.
"Previously police would have attended a family violence incident, dealt with the offender at the time then walked away so to speak. Now when our officers attend a family violence incident they deal with the immediate situation but then report it to our family violence unit who can do a follow up visit and continue working with the family to put changes in place."
That follow-up visit, says Dan, is key to helping reduce family violence.
"It is about working with people to help them make changes. So the follow up visit is done in conjunction with one of our partner agencies. Those include the Ministry for Vulnerable Children, Oranga Tamariki, (MVCOT), iwi liaison and many other agencies. We are working collaboratively with these agencies, sharing information and working together rather than in isolation, which helps achieve better outcomes for each individual."
This collaborative approach allows for a more holistic way for dealing with the situation.
"We work with the other agencies to consider the underlying issues, we can then help those involved access the relevant help and support, from addiction services to counselling, budgeting advice, WINZ and whatever else we think can help bring about change in that individual situation.
Police don't always make an arrest at the scene either, says Dan.
"Obviously, where there is an aggressor and we have clear evidence of a crime having taken place then we will make an arrest, but we can also use a Police Safety Order if we believe someone's safety is at risk. This is where we can remove the aggressor from the property for up to five days, without arresting them. So it gives people a chance to cool down and to think things through separately."
The change in approach reflects the fact family violence is not a policing issue but a community one says Dan.
"We all live in the same community. While police are there to respond to situations, it is the community as a whole that has to stand up and say we don't tolerate family violence and we will speak out about it. When it isn't talked about, then help is harder to access."
In the South Taranaki area, there were more than 1350 family violence occurrences attended last year. Dan says the numbers are high.
"But this doesn't necessarily mean we aren't being effective in our approach or that the number is growing." Instead, the numbers reflect an increase in reports.
"We get more reports now, people come forward, they self refer, and when our officers attend any call out they are trained to look for the signs of family violence, and if they see it, to make a report so we can get help to the individuals concerned. So the numbers reflect this increase in reporting."
Dan says all communities in New Zealand are dealing with family violence, but specific areas come with their own unique issues.
"The Stratford policing area alone actually covers 2500sqkm. That includes a lot of rural properties where people are far away from their neighbours or the police station. Rural areas also have a higher number of firearms which can add another level to the potential violence. We need people in these communities to be open and talk to each other and to call us if they are worried about a friend, neighbour or their own situation."
Dan says he has huge respect for the officers who work at the front line of the fight against family violence.
"They do an amazing job. They walk into unknown situations and have to make assessments and decisions that will greatly impact people's live. Safety is the number one priority and they are intensely aware their decisions can literally save a life at times."
GET HELP:
* Women's Refuge: Free national crisisline operates 24/7 - 0800 REFUGE or 0800 733 843 www.womensrefuge.org.nz
* Shine, free national helpline 9am- 11pm every day - 0508 744 633 www.2shine.org.nz
* It's Not Ok: Information line 0800 456 450 www.areyouok.org.nz
* Shakti: Providing specialist cultural services for African, Asian and Middle Eastern women and their children. Crisisline 24/7 0800 742 584
* Ministry of Justice: www.justice.govt.nz/family-justice/domestic-violence
* National Network of Stopping Violence: www.nnsvs.org.nz
* White Ribbon: www.whiteribbon.org.nz
* Tutaki Youth Inc: Stratford based organisation. www.tutaki.org.nz, 88 Juliet Street, Stratford. Call 06 928 4517