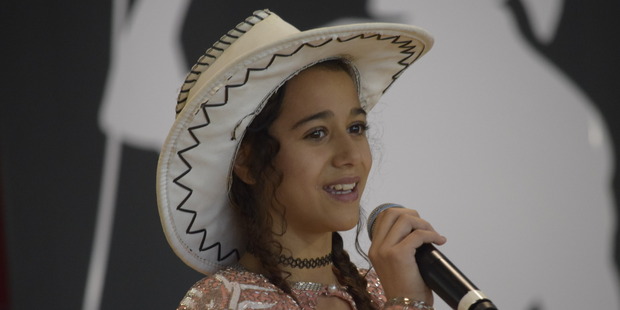 Shamika's got talent - and the trophies and titles to prove it.
Shamika Hoeta, 12, from Eltham, went to the prestigious New Zealand Country Music Star Awards in Tauranga and came back with the Ivan Lea Memorial Trophy as well as being named runner up in all three junior categories she entered and highly commended in the Western Section.
Ashley Tipping, secretary of the Star Awards says this highly commended award was particularly impressive, as it was an open section.
"So Shamika was competing against singers of all ages, some who had been singing in competitions like this one for many years."
Shamika was a first-time entrant at these awards, and her mother Maree Wheeler says Shamika certainly found it nerve-wracking.
"It was a huge event. When it came to the finals, the stadium was full so Shamika was certainly nervous before going on stage, however once she started singing you couldn't see any nerves."
Winning the Ivan Lea Memorial Trophy - open to all entrants aged 18 and under won Shamika a recording package worth $500 and the trophy. The winner is selected by the conveners, and Maree says Shamika is delighted with the win.
"It shows how good she is, and she was certainly a popular choice for it. Some members of the audience where wiping away tears when she sang at times, and one couple came up to her saying they would eat their hats if she didn't win her categories!"
Shamika and her mother already have a CD to be released before Christmas, titled Singing with Angels, featuring Shamika on her own, a duet with Maree, and Maree has 12 solos.
A highlight of the competition over Labour Weekend at Tauranga's Bethlehem College, was catching up with George and Jocelyn Tuahine, who have mentored Shamika.
The couple help run the Riverside Music Club and are organising the inaugural Taranaki Country Music Festival in Waitara next February.
Shamika will be performing at the event.