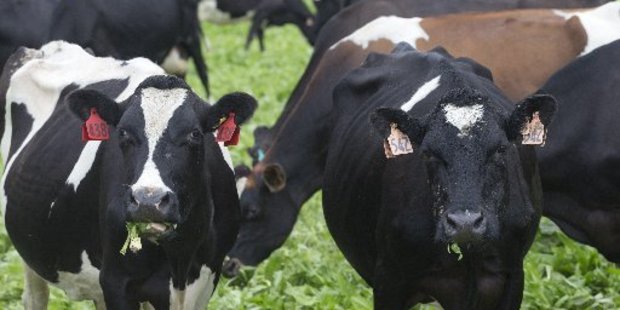 The milking season has finished on the Stratford Demonstration farm and management now is to set the farm up well for next season and for the new wintering barn use trial on the farm.
The herd was dried off on May first with final production being 56692 kg milksolids which is 6 per cent down on last season.
The drop was part due to 20 per cent less brought-in feed and part due to poor season effects in the spring. It equals 330 kg ms/cow and 1111 kg ms/ha with near 1800 kg DM/ha purchased supplement used so is similar to doing around 1000 kg ms/ha on all grass feeding which is the farms average level.
Pasture growth for the year was 15 tonne DM/ha which was quite good and above average due to very good summer and autumn growth.
However the cows did not milk that well in the spring and then only did mediocre production for the feed available in the summer- autumn.
Silage levels made were also quite low so the herd has had to be dried off a little early as well and extra supplement brought in for May feeding.
For the milkers supplement trial the control all-grass herd which was on all grass only feeding from end of September produced 309 kg ms/cow and 1044 kg ms/ha while the supplement herd which had around 2 to 3 kg PKE/cow/day above standard grass feeding produced 351 kg ms/cow and 1184 kg ms/ha .
This was an extra 42 kg ms/cow from an extra 530 kg DM fed. This equals a response to supplement feeding of 80 grams milksolids per kg DM fed which is much lower than the very good 107 response achieved last season.
On the farm the pasture cover at the end of April was lower than expected with pasture cover disappearing quicker than growth rates suggested it should be and soils were in quite a wet state.
From drying off the mixed age cows have been in one herd on moderate grass feeding plus PKE feeding in the stand-off shelter at a high rate aiming to improve cow condition to target level by June first or soon after.
The in-calf heifers were in a separate herd with grass and silage feeding. Overall the herds are on a 120 day round which is slow for May but are aiming to build up a better pasture cover for the winter.
For this coming winter and subsequent three seasons the plan is to operate a two herd farmlet trial with one herd using the covered stand-off feed pad over the winter and one on standard paddock wintering to assess the benefit and economics of the covered pad. Stocking rates and all other inputs will equal on both farmlets.