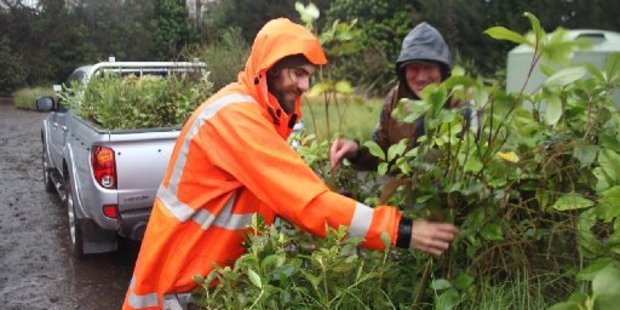 Thousands of lush riparian plants are nearly ready for pick up and the Taranaki Regional Council is urging farmers to act quickly if they want a share of those which are as yet unordered this year.
The plants will add to the thousands of kilometres of streambank and wetlands being voluntarily fenced and planted by farmers to protect and enhance Taranaki's waterways.
The council contracts nurseries to grow the plants a year in advance, and each season supplies hundreds of thousands of them to farmers at cost, says Land Services manager Don Shearman.
May 22-26 are the designated days for this year's pick-up and he expects the council's five regional plant depots will be a hive of activity.
"Taranaki farmers value the environment and remain committed to the Riparian Management Programme. They recognise it's essential to include the cost of fencing and planting in their annual budget, and to implement their riparian plan in manageable stages each season to complete it by 2020," says Don.
"It's the reason we're leading the country with riparian fencing and planting. More than 14,500km of Taranaki's streambanks are now covered by riparian plans and 85 per cent of those have been fenced, and 70 per cent vegetated where recommended."
The council encourages farmers to order their riparian plants at least a year or two ahead to keep tendering costs down and ensure there are enough to go around. Those who order now for the 2018 and 2019 seasons will get a 20 per cent discount on their 2019 plants, providing they are among the first 80,000 ordered, he says.
Farmers can also bring their empty 200 litre drums in for recycling when they come to collect their riparian plants.
Members of Young Farmers will be present to sort out the drums. A gold coin donation would be appreciated.
They will be at the Stratford A&P Showgrounds, May 22-26, 8am-4pm. Please note the drums must be triple rinsed and have both caps attached.
To place an order for riparian plants, contact one of the council's Land Management officers on 0800 736 222 or riparian@trc.govt.nz.