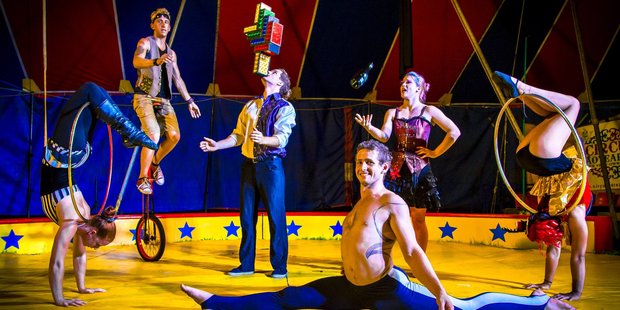 The Raglan based Circus Aotearoa is in town!
While this is the ninth national tour for the circus, it is the first time they have come to Stratford, and they look forward to entertaining Stratford children (and adults) with their unique animal free circus, says ringmaster Damian Gordon.
"We are always pleased to play such an iconic Kiwi town as Stratford. Touring into towns like yours are what we feel a circus like ours is all about."
He says Circus Aotearoa brings a delightful and intriguing line-up of traditional and modern human based acts, which are presented in a circus / vaudeville format.
"It is all presented in a ring, with the ringmaster introducing the stars in turn."
The show features a troupe of highly skilled young Kiwi and Aussie artists performing a dizzying array of acts, including aerial tissu, juggling, hula hoops, dance trapeze, Spanish web, Chinese pole and clown routines as well as acrobatics, adagio and balance routines.
"We try for a show with broad appeal and I believe circus should be about fun for the whole family as well as being awe inspiring," says Damian.
"We would like thank the various organisations for making green spaces available for the community to enjoy our show. Without the support of councils, sports clubs, schools and A&P societies, our circus would find it almost impossible to survive."
Damian says he is passionate about making circus accessible to all. "It is always best enjoyed in a local park at an affordable price.
"It somehow adds to the magic for the young ones. One day we appear, they see the show then we are gone. Just as it should be."
But he admits it is getting harder and harder with always rising rents and compliance requirements, however "as long as the folk in the area make the effort to turn out to see us, we will try and keep making it work".
Simple halftime concessions consist of fresh popcorn and hand-rolled candy floss, alongside drinks and lolly bags. Even more appealing to parents is an effort to keep the costs of the show affordable for all Kiwi families "there is no merchandising or souvenirs to put pressure on parent wallets".
"To us it's all about the show and getting a new generation in front of live performers."
With well over 1200 performances nationwide over the last nine years, Circus Aotearoa is confident they know what Kiwi families enjoy and Damian says they also make the effort to keep prices as affordable as possible
"Children aged three and under are free of charge and our prices start at $15 for children older than that. We also offer whanau and group discounts - just ask at the ticket office!"
Circus Aotearoa - Stratford A&P Showgrounds.
Friday, May 12: 7pm
Saturday, May 13: 2pm and 7pm
Sunday, May 14: 2pm
Tickets can be bought from the box office, or online: www.circusaotearoa.co.nz.
WIN:
The Stratford Press has two family passed to give away to some circus fans. A family pass covers admission for up to four people. To enter the draw for the tickets, simply email editor@stratfordpress.co.nz and include your name and contact phone number. Please put "Circus" in the subject line. Alternatively, you can give us a call on 06 765 5471 and leave us your details. Competition closes at noon, Friday, May 11 and the winner will be contacted that afternoon.