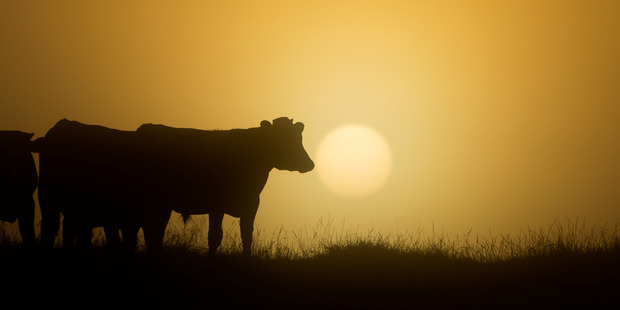 Mid autumn milk production on the Stratford Demonstration farm is well ahead of last year's facial eczema-affected results, but is relatively mediocre and frustrating for the good levels of grass available, with the cows not liking the wet conditions.
March rainfall was a little over average and temperatures were quite warm but sunshine hours were near 20 per cent less than average with a lot of cloudy and foggy weather, especially over the second half of the month. It has been very wet for April so far.
Pasture growth has been very good at over 50 kg DM/ha/day which is around 25 per cent above average allowing for nitrogen responses so pasture covers are good at around 2400 kg DM/ha on DairyNZ levels.
The good grass levels have resulted in theoretical good grass feeding levels of 13 to 14 kg DM/cow/day however milk production has been lower than expected for this feeding level. There has also been a reasonable level of milk fever cases in the herds.
For most of the season the farm has been split into a two-herd two-farmlet milkers supplement trial.
After late September the control all-grass herd has been on all-grass only feeding aiming to feed the cows well while grazing to target residuals to maintain good pasture quality.
The supplement herd is aiming to have the same pasture feeding level and residuals as the control but have PKE fed over and above this at around 2 to 3 kg DM/cow/day. Early April milk production has been around 0.95 kg milksolids/cow/day and 2.8 kg ms/ha/day for the all grass herd and 1.2 kg ms/cow and 3.5 kg ms/ha from the supplement herd but both are dropping. This is 50 per cent ahead of last seasons severely facial eczema affected early April levels.
Total production for the year is however still around 7 per cent behind last season and will remain close to this.
The overall response to supplement feeding has also been lower this year with the supplement cows so far producing near 38 kg milksolids/cow extra for 458 kg DM extra fed which equals 83 grams milksolids per kg DM fed
The herds are currently continuing on a 28-day round and calves are being break fed on all grass feeding.
Most cull cows have been culled, other than a few high producing empties. Final culling can not be determined until the heifers empty rate is known. Pregnancy testing cannot be done until they come home in May.
Supplementary feed levels made on the farm this season have been very low at only 142 kg DM/cow, less than half our desirable level.
At this level the cows should be dried off now to make the feed budget balance, especially as some cow condition improvement is required.
However for practical and economic reasons the cows will be milked through to late April and dried off in early May and extra feed brought in to balance the feed budget. Having the covered stand-off feed pad we are likely to use PKE as extra winter supplement, ideal for improving cow condition.
For this coming winter and subsequent three seasons the plan is to operate a two-herd farmlet trial with one herd using the covered stand-off feed pad over the winter and one on standard paddock wintering to assess the benefit and economics of the covered pad. Stocking rates and all other inputs will be equal on both farmlets.