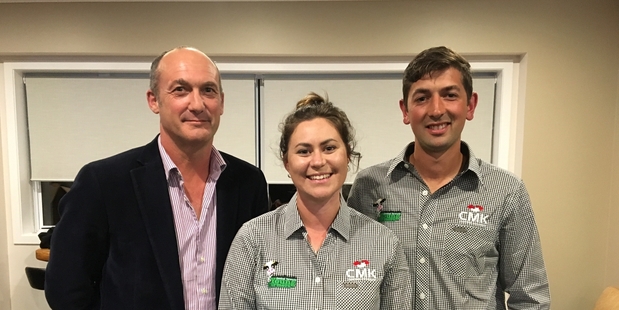 A new sponsorship deal is set to provide more opportunities for members of Taranaki's largest Young Farmers club.
Taranaki-based accountancy firm CMK has a signed a three-year sponsorship agreement with Central Taranaki Young Farmers.
The bulk of the funding will be used to support club members who make it through to regional and national competitions.
"Subsidising the cost of attending those events will make it easier for members to cheer on finalists from the club," said chairman Nick Brown.
"Both the regional and national final of the FMG Young Farmer of the Year are amazing opportunities to network.
"It'd be a shame if people were prevented from attending because of the cost."
Central Taranaki Young Farmers was recently named best club in Taranaki/Manawatu region. It aims to continue its rapid growth and hit 50 members by November.
"It's crucial for the rural sector that we have strong Young Farmers clubs in Taranaki," said Nick. "They provide young people with opportunities to socialise, volunteer, organise events and learn management skills."
Two-thirds of CMK's clients are farmers and the firm believes the deal will be a good fit.
"Central Taranaki Young Farmers is made up of current and future farming industry leaders," said CMK principal Andrew Darke. "We're proud to be involved with this vibrant club and we're looking forward to working with its members."
The club's hoping the partnership will also be beneficial for members looking to become self-employed.
"We're planning a casual event where members will be able to get tips from the CMK team on progression and getting ahead," said Nick.