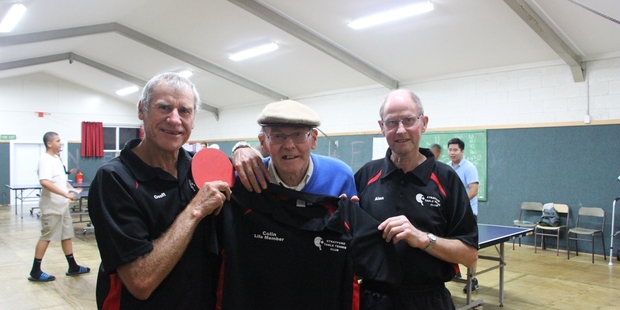 Colin Roskilly has been playing table tennis for many years, although he doesn't play anymore.
"It's a bit hard with my mobility now but I still like watching the game."
Colin says he joined the Stratford Table Tennis Club many years ago.
"It was already in full swing, a busy little club, lots of people enjoying playing." He has enjoyed his time playing with fellow club members.
"Table tennis is a good game, it is friendly, keeps you active, makes you think fast and on your feet and the club members have always been good, they have always been nice people here."
When the club members recently decided to get team T-shirts made, they ordered a very special one for Colin.
"We wanted to recognise his many years of membership and his dedication to the club," says current club president, Alan Manning. "He may not play anymore but we always enjoy his company and wanted to keep him part of the club."
Last month Colin was presented with his own club shirt, with Life Member proudly embroidered underneath his name.
"It's very smart isn't it. I will make sure I wear this whenever I come to the club now." Colin says he was thrilled with the shirt, and he is pleased to see the club still going strong.