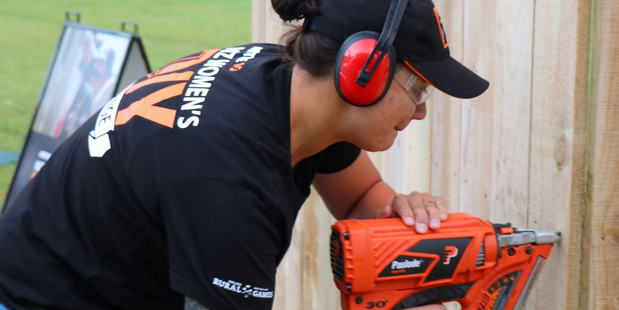 Hawera woman Carly Taiaroa took out the top spot in the Women's DIY Challenge as part of the Hilux Rural Games in Palmerston North on the weekend.
Carly won the competition with help from her mum Roselle. It included constructing a playhouse and putting up a fence ahead of competitors runner-up Rachel Lawrie from Invercargill and Rebecca Rogers from Paraparaumu.
Carly was thrilled to win the Mitre 10 Women's DIY Challenge, and has plans to buy herself some new tools and maybe even a barbecue with her prize, a $1000 Mitre 10 voucher.
"I was so nervous coming into the competition that I hardly slept the night before," Carly says.
Rachel and Rebecca looked like tough competition and I didn't think I was going to win. I learned so much during the Challenge and Stan really helped me out with some good advice/ Thanks so much to Mitre 10 for the great experience."
Following the success of Mitre 10's ladies night events at stores around the country and the growing confidence Kiwi women have in their DIY skills, Mitre 10 General Manager Marketing Dave Elliott was delighted with the competition and Carly's win.
"Mitre 10 lives and breathes DIY and it's fantastic to see Carly, Rachel and Rebecca show that it's not just the blokes' domain.
"With a huge number of Kiwi women running the show when it comes to DIY projects at home, the challenge was an awesome showcase for their skills."
Mitre 10 builder Stan Scott was on hand to judge the challenge and was blown away by the skills on display.
"The playhouse and the fence were no match for the three competitors, but Carly really smashed it.
All three competitors showed top-notch DIY skills, but Carly's unrivalled attention to detail and awesome workmanship won her the title."
The three finalists and their chosen female assistant were provided with flights and accommodation for the competition. While Carly takes home $1000 Mitre 10 voucher, Rachel and Rebecca receive $500 and $250 for their respective second and third places.