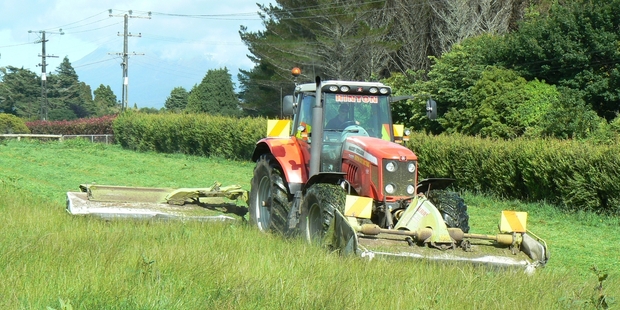 Summer finally arrived over the last two weeks of February and into March with some quite warm, dry and settled weather after cool windy weather for most of the summer.
Summer rainfall for Stratford has, surprisingly to most, been slightly below average but it has been well spread and has resulted in good to high pasture growth on the Stratford Demonstration farm.
Milk production has held well after being relatively poor for the spring and assuming no facial eczema problems should continue at a reasonable level through the autumn.
Pasture covers on the farm were moderate over early summer but relatively good to high for February and March so far at around 2400-2500 kg DM/ha on DairyNZ levels and these should be maintained with current weather conditions and expected pasture growth.
With the poor spring only 25 per cent of the farm was harvested for silage and yields were low.
The good summer growth has allowed some extra light crop silage to be harvested but totals are still low at 142 kg DM/cow which may result in early drying off at the end of the season to get through the winter or else extra supplements will need to be purchased.
At the end of September the farm was split into two equal farmlets and two equal herds and a repeat of last seasons milkers supplement trial was started.
The control all grass herd continued on grass only feeding aiming to feed the cows well while grazing to target residuals to maintain good pasture quality.
The supplement herd is aiming to have the same pasture feeding level and residuals as the control but have PKE fed over and above this at around 2 to 3 kg DM/cow/day.
Current pasture intakes for both herds are around 13 kg DM/cow/day and the supplement herd is getting 2 kg PKE/cow/day.
Early March milk production was 1.15 kg milksolids/cow/day and 3.6 kg ms/ha/day for the all grass herd and 1.3 kg ms/cow and 4.2 kg ms/ha from the supplement herd which is 5 per cent ahead of last seasons early March levels however the farm is still around 8 per cent behind last season in total production part due to the season and part due to less brought in feed.
The overall response to supplement feeding has also been lower this year with the supplement cows producing 28 kg milksolids/cow extra for 374 kg DM extra fed which equals 75 grams milksolids per kg DM fed but it should be more economic this year with a better milk payout.
There is minimal difference in weight, condition score or mating results between the herds at this stage.
The pregnancy testing empty rate was 10 per cent for the control herd and 12 per cent for the supplement herd which although were still above our target are relatively good compared to many others this season.
The herds are currently on a 28-day round and calves are being break fed on all grass feeding and will remain on this to the end of April.
A few low production and problem cows have been culled equal to 5 per cent of each herd.
The cows are being drenched with zinc for facial eczema prevention and spore counts monitored but they are relatively low at this stage.
The cleanings from the covered stand-off pad have been cleared out and spread around part of the farm at a rate which will mean no autumn fertiliser is required on that area.
The remainder of the farm is getting standard autumn fertiliser including nitrogen.