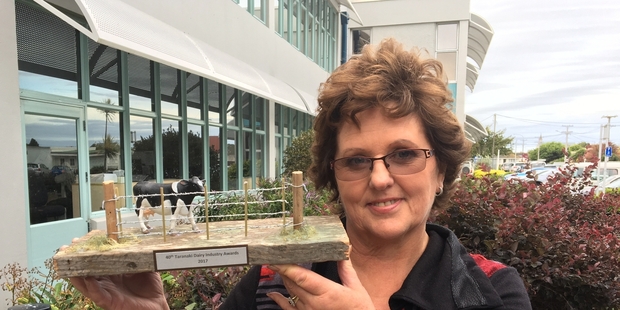 Dairy farmer Judy Brown loves a challenge, especially if it involves scissors and a hot glue gun.
The Hawera grandmother designed the sought-after table centrepieces for this month's Taranaki Dairy Industry Awards.
"This year was the 40th anniversary of the awards and the organising committee wanted something 'vintage'," Judy says.
Taranaki's table centrepieces are the envy of the 10 other Dairy Industry Awards regions.
"In the past, we've had miniature milk vats, palm kernel trailers and even rotary cowsheds, thanks to the talented Bryce Savage.
"He set an exceptionally high standard, so the pressure was on," says Judy.
Committee member Michelle Taylor suggested a Taranaki gate, which is made from wire and battens.
"I thought it was a brilliant idea. There's nothing more Taranaki than a Taranaki gate," says Judy.
She got to work developing a prototype, which involved raiding her craft supplies.
"I found some miniature tinsel. It made perfect barbed wire, but I needed enough to make 40 gates and I couldn't remember where I bought it," she says.
After trawling through shops across Taranaki, Judy eventually settled on a spool of cord she found at The Warehouse.
"I tied knots loosely along it, cutting a couple of threads to create the look of barbed wire, which was quite painstaking," Judy says.
"I made 160 strands of 'wire' and they all had to be coated with metallic spray."
The miniature gates are held up by posts made from dowling and mounted on recycled timber planks.
"They're all technically correct. They're fixed onto one post and can be opened from the other end," Judy says. "I think every farmer's wife curses the Taranaki gate because they're notoriously difficult to close."
Judy finally made 40 gates, with each one taking an hour to construct.
They were topped off with a miniature dairy cow and a card, which named a previous winner and explained the origins of the Taranaki gate.
"I enjoy being creative," Judy says.
Photos of the centrepieces have been a hit on social media.
"These rock. I need one with a Jersey cow," says Nicole Hinz.
"That would look great with my models," adds Belinda Karl, who collects farming toys.
Judy and her husband Murray Brown were the 1981 Taranaki Sharemilker of the Year winners.
The centrepieces can be purchased for $20 by emailing taranaki@nzdia.org.nz