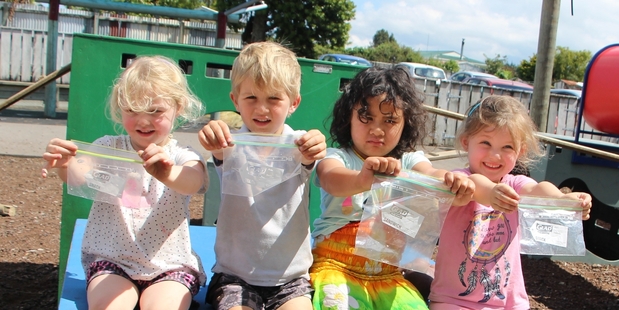 "It's bad to throw away lots of plastic. That's why we put it in the special box."
She's only four years old but Harmony Leigh knows why recycling is important.
"When we throw stuff away it hurts the world and animals."
Harmony and her friends at Avon Kindergarten are doing their bit for the environment by recycling their food storage products such as sandwich bags, and participating in the Glad To Recycle Contest at the same time.
The contest is a partnership between manufacturer Glad and TerraCycle, which gives anyone in New Zealand the opportunity to sign up to the programme, sending in used Glad food storage products to earn money.
The programme pays participants $1.58 for every two kilos of Glad food storage products sent in to TerraCycle, to go to their not-for-profit or school.
Avon Kindergarten teacher Patricia Collins says the team at the kindergarten was delighted to sign up to the programme.
"We are conscious of the environment around us and try to minimise waste where we can. For parents, using Glad products is often an easy way to keep food fresh during the day when they send their children in with their lunches, so being able to offer a recycling programme for those items is great."
Being able to use the programme to raise money for much-needed resources is an added bonus, says Patricia.
"As well as the money paid out for every two kilos we send in, we are also in the running to win cash prizes, for the location which sends in the most pieces of used Glad food storage products." Patricia says the location which sends in the most by April 14 will receive a cash prize of $1000, while the second and third highest collectors each win $250 to for their school or not-for-profit.
To help Avon Kindergarten earn, they want members of the public to drop off used Glad food storage products during their open times.
"We would really appreciate as much support from the community as possible to help us maximise the fundraising opportunity this recycling programme is giving us," says Patricia.
To help support Avon Kindergarten, drop off any clean, used Glad food storage products to Avon Kindergarten, Avon Street, Stratford between 8am and 4.30pm, Monday to Fridays.