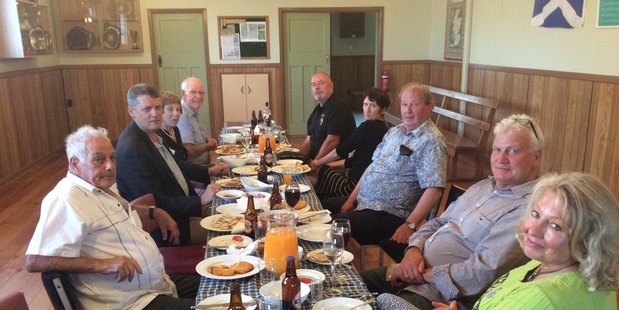 On March 1st, 1892, a few Freemasons from Taranaki met in the Midhirst Hall to hold the first meeting of Lodge Hinemoa.
The Charter was issued by the Grand Lodge of Scotland and Scottish Freemasons have been holding meetings in the district regularly ever since.
Freemasonry is a charitable organisation best known for its retirement villages and units from Hawera to New Plymouth, Eltham to Waitara. Freemasons also enjoy the fraternity of their membership and as Freemasonry is found all over the world, Freemasons are always sure of good friends wherever they go.
This year, on Wednesday, March 1, 125 years to the day, the Freemasons of Lodge Hinemoa celebrated with the tradition of raising one of their members to the Third Degree. Celebrations continued over the weekend with visitors from across the North Island from as far away as Hawkes Bay, Wellington and Auckland. These visitors included some of the most senior Freemasons in New Zealand as well as local members from the Scottish, English, Irish and New Zealand branches of Freemasonry here in Taranaki.
Members gathered for light refreshments on Friday evening in the refectory at the Lodge rooms next to the railway station, where the Lodge has been located since 1930. On Saturday afternoon, the Lodge held a celebratory meeting with members resplendent in their regalia and accompanied by pipers.
During that meeting, a collection was held in support of the Tutaki Youth Inc, who work with local youth. The aims of Tutaki are very much aligned with the aims of Freemasonry and so it is a pleasure that the funds from that collection will be presented to them in the near future.
The meeting was followed by haggis with the traditional Scottish Ode to the Haggis which was piped in for the ceremony and toasted by Anniversary Double Black Label whisky. Celebrations continued into the evening with a buffet dinner at the Shakee Pear caf at the Pioneer Village wherethe group hosted one of the Tutaki Youth trustees to thank them for what they do for our community.
The weekend's celebrations were completed with a special anniversary church service held in the former Mangatoki Church at the Pioneer Village conducted by Rev David Self, who used to conduct services in the church before it relocated.
Afterwards members explored the Pioneer Village before finishing with a light lunch again at the Shakee Pear.
Many thanks also to the Stratford Pipe band who paraded around the village before marching to the caf and playing an outstanding programme for the Scottish Freemasons.
For further information about the weekend's activities or Lodge activities contact Robin Stanford on 062164959 or e-mail hinemoa786@gmail.com. More information about the Grand Lodge of Scotland is on their website at www.grandlodgescotland.com/ and New Zealand Scottish Freemasons have a website at www.grandlodgescotland.com/grand-lodge-171/structure/district-grand-lodges/154-district-grand-lodge-of-new-zealand-north