The stars and stripes were flying, the sun was shining and the street was packed full of hundreds of American cars on Friday as Americarna roared its way back into Stratford after a two-year absence.
Peter Dalziel, chairman of the Stratford Business Association which was responsible for Americarna's return to Stratford, says the SBA was thrilled with the success of the day.
"The crowd turnout was fantastic to see."
Peter says the event, last in Stratford in 2014, was "first and foremost a community event", and he was pleased to hear from many of the local businesses who said they had been very busy during the day, with good turnovers reported.
"It was also great to see staff from many of the businesses getting into the spirit, dressing up as well as decorating shop windows."
The cost of hosting Americarna in Stratford was around $14,000, says Peter, who adds the SBA is grateful to the Taranaki Electricity Trust who provided a grant of $10,000 towards the cost.
"Thanks is also due to the community development team at Stratford District Council, who worked tirelessly on the day and in the lead up organising the event and ensuring it ran smoothly.
John Rae, organiser of the Americarna event in Taranaki, says he loved seeing the cars return to Stratford.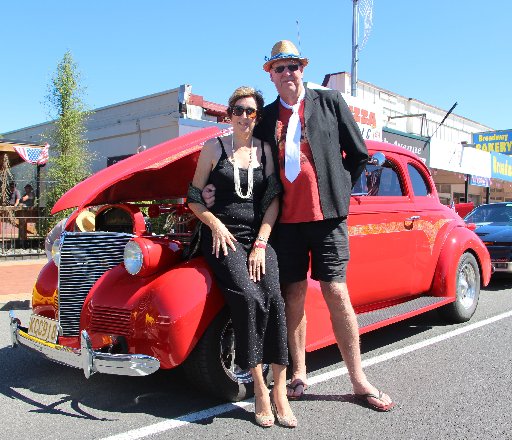 "It's great. You see the streets are packed, the crowds are out and the shops and cafes have plenty of people in them. Look at the cafes, I can guarantee you they wouldn't be this busy on an average Friday in February would they?"
Stratford, says John, is "the perfect place to host the cars, the main street works well, it really does give people the opportunity to see all the cars in their glory".