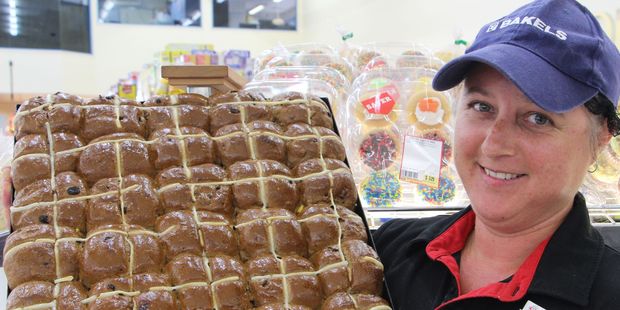 "We have customers who come from New Plymouth specially to buy hot cross buns from us," says Amanda Garner, the bakery manager at Stratford New World.
She says customers ask for the popular Easter-themed treat all year around.
"So they are always pleased when we start baking them for the season."
Fruit hot cross buns hit the shelves earlier last month, and chocolate ones will be coming soon, says Amanda.
The fruit-free ones are another popular option they will be baking in time for Easter.
"Obviously the youngsters generally love the chocolate ones, but we also have customers who don't like the fruit option, so we make fruit-free hot cross buns as well. All three types are popular and always sell well."
The hot cross buns are baked on site from scratch and currently they are going through about 10kg of dough a day, says Amanda.
"That's enough to make about 60 packets, or 360 buns."
As Easter gets closer, they will increase production, at their peak going through up to 100kg of dough a day.
Dan Harris, owner operator of Stratford New World says he and the team know their hot cross buns are great, and they want to share them with local businesses, workplaces, schools and kindys around the area.
"Over the next six weeks, we are offering workplaces the opportunity to win an Easter shout on us. Each week a winner will be drawn to have two dozen hot cross buns and a pack of easter eggs delivered for a delicious Easter shout from Stratford New World."
- Want to win a Stratford New World Easter Shout? Open to any workplace, school or kindy in the Stratford District. To enter simply email editor@stratfordpress.co.nz and include the name of the place you are nominating and a contact phone number. Please put "Easter Shout" in the subject line. Or you can give us a call on 06 765 5471 and leave the details. A winner will be drawn each Wednesday of the six-week period. The Stratford Press will deliver the goodies and take a photo of the winning group. All winner photos will be published in the Stratford Press at the end of the six-week period.