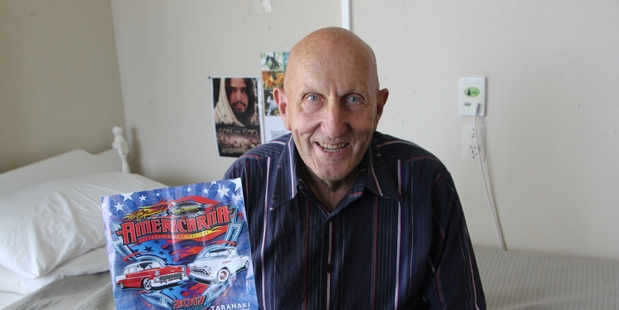 The repeat theft of an American Flag has left pensioner Arnold Walker saddened by the unkindness of strangers.
"I just don't know why someone would take it, it wasn't worth anything, other than bringing a bit of happiness to those of us who saw it each day."
Last year, the Stratford Press reported on the theft of an American Flag from outside Marire Rest Home in Stratford.
It belonged to Arnold, a resident at the rest home, who had carefully and painstakingly made a wooden frame for it and put it on display to support the AmeriCARna event in Taranaki.
A happy ending for the story came a week later, when Cody Bibby an AmeriCARna participant came to visit Arnold with a new flag for him.
Sadly, a year later and the happy ending is no more.
Earlier this month, Arnold started preparing a flag pole ready to put the American flag back up in time for AmeriCARna's arrival in Stratford this Friday. He spent "a good bit of time," he says preparing and painting the pole before the flag was raised last Monday.
"It's nice to have the flag up, not just for me but all the residents here at Marire. They all enjoy AmeriCARna and it was nice having the flag up on the lawn."
Late on Saturday night, Arnold says he heard a commotion outside on the street, and presumed it was people coming home from a night out at the pub.
"The next morning, when I went out to feed the birds, I looked up at the flag, and it wasn't there."
The flag had been taken once again, leaving the empty pole and some torn remnants.
"A nice gentleman found one of the surrounding bits on the street and brought it to us, but without the flag there isn't much we can do."
Arnold is at a loss to explain why someone would have gone to the effort to have stolen the flag.
"It wasn't doing any harm, just flying to support an event coming to town. Whoever took it had to get up pretty high to take it, it wasn't accidental, there was deliberate effort made."
Arnold says he doubts he will bother putting a new flag up, "it's happened twice now, so there doesn't seem to be much point in trying again".
Despite his sorrow at the lost flag, Arnold says he bears the thieves no ill will.
"Forgiveness is really the only thing I can do," he says, adding he attends the Vineyard Church in Stratford.
With the flag gone, Arnold still has the official AmeriCARna magazine to look at before the American Car festival roars into Stratford on Friday.
"The car on the cover, I used to work on that car," he says, explaining he was a "grease monkey" at Stanners Motors in Eltham. "I love AmeriCARna, my first car was a Ford Prefect," says the 77-year-old, who plans to have "a good look" at all the vehicles on display along Broadway on Friday.