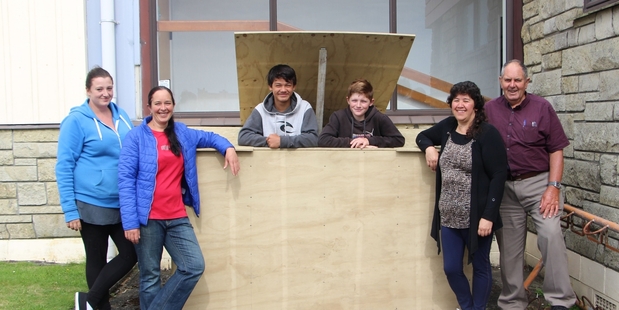 "It was just something we could do to help them out."
Trulin O'Hanlon-Taputoro, 12, doesn't think he and his friend Justin Leeman, 12, have done anything out of the ordinary, but Penny Gavan, co-ordinator of the St Andrews op shop in Stratford, disagrees.
"They have done an amazing job and worked really hard. We can't thank them enough."
The two boys, both pupils at Stratford Primary, spent much of last term working on a very special woodwork project; designing and building a large bin to receive donations of gently used clothing for the popular op shop which operates out of the St Andrews Presbyterian Church hall on Tuesday and Thursday mornings.
"We have quite a few people who say they want to donate items to us, but can't get in to town the times the op shop is open, so having a permanent clothing bin outside means people can donate at any time of day or night."
Aaron Moore, deputy principal at Stratford Primary, says the school wanted to do something to support the op shop, "as we have received some fantastic support and help from them through the years".
He says when the school received a "substantial" contribution from the op shop last year towards school camp costs, they asked what they could do in return. "They said the really needed a clothing bin, and asked if we could build one."
"I was joking!" Penny says she never expected her comment to be taken seriously.
"We thought it was a project we could do, and it would come with some educational benefits for the pupils working on it," says Aaron, who has plenty of praise for the two youngsters who took the project to fruition.
"Justin and Trulin spent hours on the project, not just in class time but giving up time after school and in break time as well. They saw the project through from start to finish."
Justin says he was happy to be able to do something to help, "as they have done lots for us, like making the cost of our camp last year cheaper".
He and Trulin are proud of their finished project, and say they both learned a lot during the process.
"The hardest part was probably getting the nails in straight," says Trulin, while Justin says having to call in a builder to help with the framing of the bin showed them how complicated it was.
Aaron says the Stratford Lions helped out by providing building advice, "and Mitre 10 were great, cutting the the pieces to size for us".
Both boys say they enjoyed working on the project and agree they would now consider building as being a potential future career option.
Meanwhile, they are looking for their next project.
"They might not always be enthusiastic about math or other subjects, but the practical aspects of this really appealed to them and got them motivated," says Aaron.
Aaron adds he believes the boys have gained plenty of valuable skills through the process.