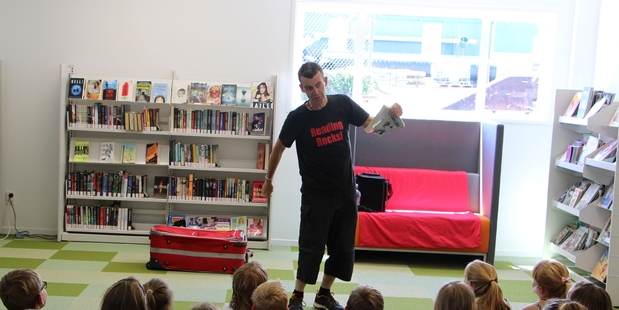 Reading rocks was the message when Adrian Kirk visited the Stratford Library last month.
Adrian's show Reading Rocks was the finale of a successful summer reading programme, says children's librarian Sally Caskey.

Children attending the show enjoyed an afternoon of entertainment in which Adrian combined his awesome skills as a juggler, unicyclist and comedian with a lively and hilarious discussion about some of his favourite books.
There was plenty of laughter from his captivated audience as he humorously attempted to learn skills by following the instructions contained in books.
The performance was followed by a barbecue for all participants in the reading programme. Sally says she and the team at the library are grateful to the Stratford Rotary Club for providing and manning the barbecue on the day.
Sally says all participants in this year's summer reading programme are to be commended for their hard work.