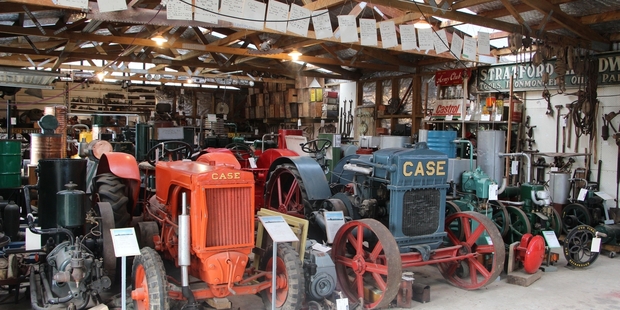 When Ian Harrison passed away last March, he left his wife Jean, four children, 12 grandchildren and more than 300 pieces of vintage memorabilia.
Now his family are preparing for an auction of the vintage collectables in the hope they will find a new home in sheds and workshops around the country, or even the world.
"Some will be kept of course, as we all have memories of Dad tinkering away on these machines and engines. He spent hours working on them, but we can't keep it all, so it is time for an auction."
Son Kim Harrison says his father collected stuff for as long as he and his siblings can remember.
"He was a real collector, radios, tractors, tools, engines, telephones, you name it, he collected it. There's a whole pile of really old computers. You couldn't even give those away now I think."
Dave Hunger, a long time friend of Ian's, says the auction in March will be the biggest one of its kind in Taranaki, if not all of New Zealand for 2017.
"This collection is incredible, and I expect collectors from all around will be coming in the hope of getting their hands on a rare piece of machinery or two."
Dave says Ian, who was a founding member of the Taranaki Vintage Machinery Club, was a talented collector.
"He knew the value of the items, not just financially but also historically, and he knew how to care for them, to bring them up to scratch."
Ian and his wife Jean devoted a lot of time to the collection, which fills shed after shed on the Stratford property.
"It took us six months to catalogue it all," says Kim, who only finished the job last week.
Kim and Dave both struggle to pick out the most valuable item, or the item most likely to sell for the most, partly because every item has its own unique value, be it dollars or sentimental.
"Besides, there are a few things I plan to bid on, so I don't want to show my hand," laughs Dave, who says he expects to face a bidding war on some of the items.
"This Mehring Company foot powered milking machine for example. They were made in the USA but mainly sold to farmers in New Zealand and South America, so there are collectors in the USA who are keen to buy them when they come on the market."
Another item likely to attract interest at the auction is the Mountain Goat.
This was the first type of farm bike to be sold in New Zealand, and they were made in Taranaki, says Dave.
"They were built by Johnny Callender in the 1960s. He imported the motor and built the rest of the bike body himself. Before that, bikes were no use on farms - the wheels were too narrow and they were too high geared. After Jonny's started selling the Mountain Goat people began to see how useful a bike could be on the farm." The ultimate stamp of approval for the bike came when Sir Edmund Hillary and Peter Mulgrew took Jonny's prized prototype bike on a 1964 expedition to the Himalayas. Mulgrew nicknamed the bike the Mountain Goat and the name stuck.
Among the items going under the hammer is Ian's Trekking Tractor.
"That tractor has seen more of New Zealand than any other tractor in the country I reckon." Dave says the 1954 Fordson Major tractor was a well-known sight.
"Ian used to drive it on trips, with Jean in the car behind, with a cup of tea in the thermos and some biscuits ready for morning tea stops."
One item staying is the 1908 Warwick Spirit Engine, which started the collection, says Kim.
"My great grandfather bought it in Eltham in 1908 for 89 pounds and 10 pence. It ended up with Dad, and the rest, literally, is history."