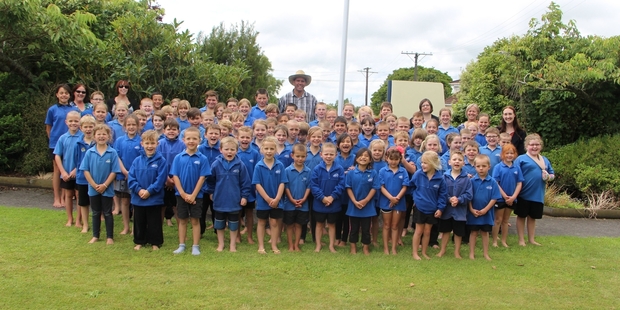 "I'm not a leader, I am one of the team."
The new principal of Midhirst School, Graham Sands, says he believes a collaborative approach is the best way when it comes to continuing to build on the great things happening at the school.
"Stuart Beissel did a fantastic job here, under his leadership a fantastic team was developed and when I came in, everything was nicely in place, meaning I can pick up where he left off and will be able to continue to move the school forward."
Having a supportive and involved Board of Trustees is another plus says Graham.
"The board here is incredibly supportive and its hands-on involvement has made my transition to my role here very straight forward."
While Graham is new to the school this term, he isn't new to Taranaki, having spent most of his life in the region. He attended New Plymouth Boys High School before going on higher education and has always taught at schools in the area.
"I started my teaching career out in Whangamomona, at Marco School. At the time there was myself, plus the teaching principal."
Before taking on the role of principal at Midhirst, Graham was principal at Waitara East school.
"The two schools are certainly different. At Waitara East there were 270 pupils compared to 89 here. Another difference is the change from urban to rural. It is a different lifestyle overall here, and I am enjoying the change."
Graham's family are also enjoying the change.
"My partner Maria and our daughter Jordi are both into horses, so there is a plan to look for a farmlet around here where we can have a bit of space, maybe a beefie or two, just a few livestock to start with."
Son Noah is also looking forward to change to a more rural lifestyle.
"There will be more space, the distance between work and home will be less, meaning I can spend more time with the family, and the community is such a fantastically welcoming one. We are all looking forward to the move."
While he is only a couple of week's into the job, Graham says he feels as though he has been there longer.
"The staff are focused and all know what they are doing and what is expected of them. The pupils are friendly and eager to learn, and the parents and wider community are all helpful and approachable. This all combines to make me feel incredibly welcome and able to get on with my job."
One of the many appealing features of the role was the opportunity to work with other schools in the local cluster.
"This gives the opportunity to share knowledge and learning, to offer each other support and feedback and to work together on embracing new initiatives. I see collaborations like this as being vital to growing ourselves and our school communities, and am looking forward to working alongside and with the great schools we have in this area."
Another part of the job which appealed to Graham was the fact it came with the opportunity to spend some time back in the classroom.
"I am looking forward to being in the classroom once a week as the release teacher for a beginning teacher. I didn't want to simply be behind a desk all the time and I am loving the opportunity to continue teaching and working with individual pupils." Getting to know the pupils individually is important.
"I am very strong on the idea that positive relationships are key to any form of success and I apply that in all the relationships I build in my role. With my colleagues, with the board, with parents and with the pupils themselves. Their success is our success and I am looking forward to being part of their journey."