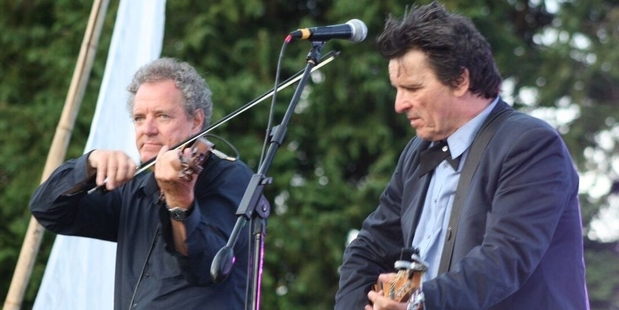 "They sound as good as they did 20-odd years ago."
Sharon Donald says when she heard The Warratahs were the headline act in the Stratford District Council Summer Nights concert, she called her two best friends and planned to make a night of it.
"Myself, Brenda Hughes and Marilyn Toms went to see The Warratahs many years ago now, and we still love their music."
The three friends all live in New Plymouth and say it was worth the trip to Stratford for the concert.
"The dell is such a nice place to have the concert, space to have a picnic, a drink or two and you can't hear any traffic noise or anything. It's as nice as the Bowl in New Plymouth, just smaller."
Kate Whareaitu, director of community development for Stratford District Council, says the rhododendron dell proved a great venue, offering a picturesque setting. She says holding the event in King Edward Park was timely.
"Given the current consultation out on the reserve management plan as part of the Stratford 2035 plan, the consultation closes in mid-March so now is a good time for people to have a think about what they want that plan to include."
Kate says a crowd of more than 1100 attended, and all seemed to enjoy the atmosphere and music on the night.
"Both acts were very popular with the crowds, with local act Rick Coplestone and Janet Muggeridge starting the night off brilliantly, followed by The Warratahs."
The event wouldn't have been so successful without the support of several groups and organisations, she says.
"Special thanks due to TSB Community Trust, Dairymaster for providing the train rides on the Dairymaster Express, and Bryan Vickery from NZME for being the compere for the night."
Kate says she was also pleased by the behaviour of the crowd, noting very little rubbish was left behind for the clean up crew to deal with after the event.
The Stratford Lions Club, Stratford Primary School and Steelformers Netball also helped make the event run well. The next Summer Nights event is the movie night, which takes place this Friday, February 17, at Victoria Park.