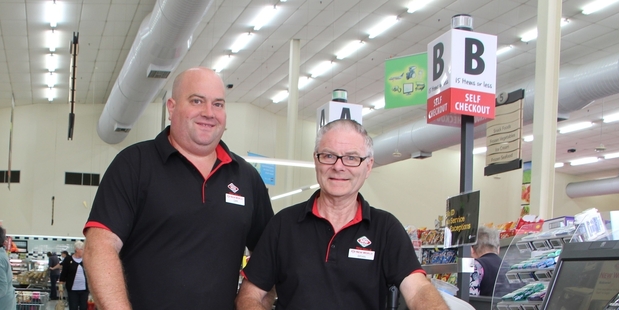 In 1976, on July 19, Brian McKinlay delivered groceries to a Mrs Carpenter, of Stratford.
"We would have called her and asked for her order, then called her back and given her the price, then the next day I would have driven the van there with her groceries and collected the money, probably a cheque back then, most people paid that way." The amount Mrs Carpenter paid was a grand total of $5.05.
Similar items today would come with a bill of $57.54.
At the time, Brian worked at Stratford 4Square, and 40 years later he can tell you exactly what Mrs Carpenter bought that July day, not because he has a fantastic memory (although his memory is impressive) but because he has the receipt he gave her that day.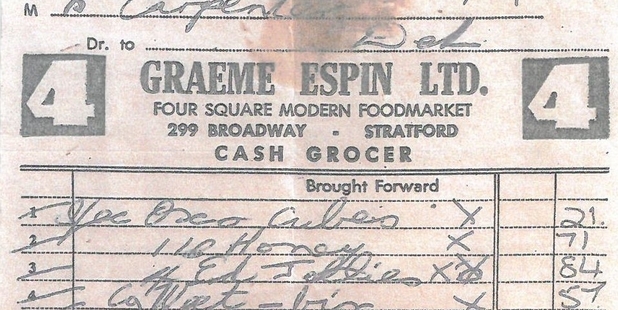 "When she passed away, her daughter was sorting through her possessions and came across the receipt, she recognised my name and gave it to me thinking I would be interested."
Brian is well known, having been in the grocery trade for 49 years, working in a variety of stores around the area. Nowadays, he can be found in the grocery aisles of Stratford New World, where owner operator Dan says he is well liked by customers and staff.
"Before I even arrived in Stratford, I had heard about Brian. The gentleman grocer, that's how a friend of mine, Ross Jordan, described him to me. Ross had employed Brian back in the day and was thrilled when he realised I was moving to Stratford and would have Brian working for me. I would say gentleman grocer is the perfect description of Brian, he really is a genuinely nice person."
Brian says he has always prided himself on his customer service, saying he finds it a pleasure to help customers find what they need.
"Some of the older shoppers have actually followed me around the shops as I have moved jobs. So some of them have been served by me since back in 1968 when I first started at Stratford 4Square."
Much has changed through the years in the grocery trade, says Brian.
"Back in the 60s and 70s housewives were at home more, they did more baking and cooking from scratch. Now people are working longer hours, they need quick convenient food, ready-made for a quick dinner."
Stores didn't have forklifts either, so staff formed a human chain to unload goods as they came in, and best before dates didn't exist.
"You just used your common sense and only bought as much as you needed. Things didn't sit in the fridge for a long time."
People made lists and kept to them as well, he says.
"Often people were paid fortnightly or monthly and the housewife would come in and do all the shopping she needed for that time. She wouldn't call back and get more, everything was tightly budgeted."
Brian's attention to good service through the years hasn't gone unnoticed, in 1997 he received the Rotary Award for Pride for Workmanship in the workplace from Stratford Rotary Club.
"What I liked about that award is that I was nominated by a customer."
Next Friday will be Brian's last day working in the grocery trade, he turns 65 the day before and is going to take a well-earned retirement.
"I will miss the job of course, but I will still see plenty of the customers about in town, and I will still be in here to do my own shopping so will still see the staff as well."