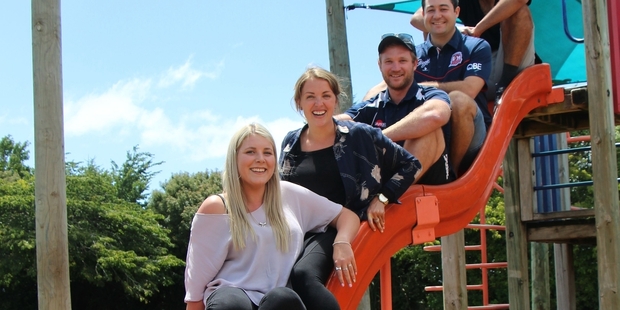 The hallways don't seem so long and the chairs seem smaller now for three past Stratford Primary School (SPS) pupils who returned to school last week in a new role.
Kate Mills, Greer McQuay and Sam Mako all attended SPS as pupils and returned to class on Monday last week for their first day as teachers at the school.
The trio were joined by other Taranaki locals Chad Jacob and Brad Bennett as new teachers on Monday, and Principal Jason Elder says he is thrilled to be welcoming all five to the SPS team.
"We have a great balance of experienced team members and new faces. It's going to be a great year for our school."
"I am so excited to be working as part of a big school, full of opportunities," says Kate.
"It's a strange feeling coming back as a teacher, but I'm looking forward to what it brings," says Greer.
Sam, who recently completed a placement at SPS, says he feels the school is a great fit for him.
"I loved my time here and I'm happy to be back."
While Sam and Greer will be stepping into their teaching roles for the first time, Kate, Chad and Brad have spent the past two years teaching in England.
"I have been looking forward to getting into a classroom full of Naki kids again. While SPS is a big school it still has that great rural feel to it," says Chad.
"It's awesome to be back in teaching environment," Brad says. "SPS is a real change of scenery for us. I'm excited for the year ahead."
Sam, Chad and Brad are all avid rugby players, but while they are all on the same team at school, an old rivalry is set unfold on the field.
Chad and Brad both will be playing for the Waitara-based Cliffton Rugby & Sports Club, where Jason is a team manager.
Sam will be playing for Stratford Eltham Rugby & Sports Club, where deputy principal Aaron Moore is a team manager.
"We are hoping to get the whole school involved in a State of Origin-style competition when the two clubs clash later in the year," says Jason.
Jason says he believes SPS has a great balance of male to female teachers, providing pupils with the ultimate opportunity to grow.
"With the new group of teachers and the addition of another classroom in the junior school, this is going to be a great year for our school."
With a role of more than 400 pupils SPS will be starting the year with an additional classroom in the junior school, where Greer and Kate will be teaching.
Sam will be joining the year 5 and 6 syndicate and the senior school will be joined by Chad and Brad.