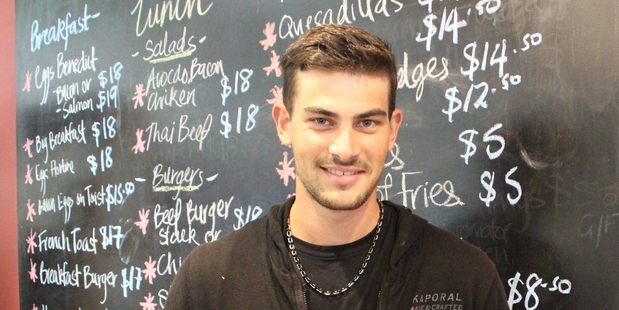 Steven Duvail says he is enjoying bringing a little bit of French flair to the baked goods cabinet at The Well Cafe in Stratford.
"The aesthetics of French baking are different to the New Zealand style, the techniques are different, even the ingredients are different."
Owner Hillary Kieft wasn't looking to employ a French pastry chef / baker, but when Steven literally came knocking at her door, she offered him work for a few weeks.
Steven wasn't looking for a job when he turned up at Hillary's. He was looking for help, as his car had broken down right outside her home.
"We got talking," says Hillary, "and when he said he was here on a working visa, and was a trained pasty chef / baker, I asked him if he would like some work".
She didn't just offer Steven a job, he is also staying with Hillary and her family on the farm, meaning he is getting a truly authentic rural Taranaki experience.
Steven, who is from Bretagne (Brittany), a region in the north west of France, says he was thrilled to have the opportunity to use his skills to earn money while enjoying spending time in Taranaki.
"I will spend four to six weeks here before I then travel to the South Island. This job is giving me a chance to earn money to spend on my travels and Taranaki is a great place to explore while I am here."
Hillary says she has loved trying all the baked treats Steven is effortlessly producing from the Well Cafe kitchen.
"Every day he makes something else, and every day I have a new favourite".
As well as having the brioche, tarts and all sorts of other pastries on sale at the cafe on Broadway, Steven is heading into the business community each day with a tray of the baked goods for sale.
"It is nice meeting everyone and hopefully they find something they like," he says.
Steven says he sees a lot of differences between French bakeries and ones in New Zealand.
"It's not that one is better, but rather they are more totally different products. In New Zealand there is more sugar in the baking, more processed things."
Some ingredients he looks for, he can't find here.
"So I have to experiment a little at times, but that is baking. It is about the creation."