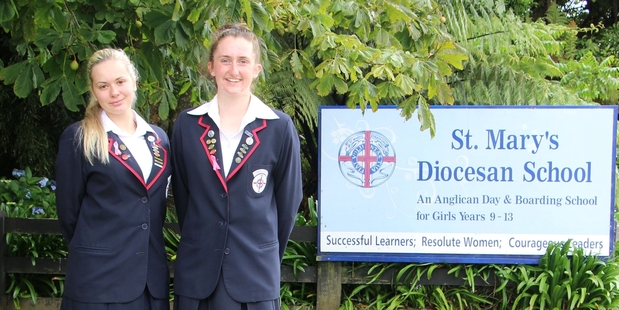 Building stronger relationships through the Big Sister Little Sister programme is a shared goal for the 2017 head students at St Mary's Diocesan School.
Alexandra Howard, head girl, and Charlotte Helms, deputy, were named as the head students late last year and both say they were shocked and excited to get the roles.
"As a junior I always looked up to the head students. They were my role models.
"I hope to be that for the junior students this year," says Alexandra.
Alexandra says the first step to becoming a head student is preparing an application letter.
"As well as encouraging the growth of the Big Sister Little Sister programme, I also talked about encouraging the girls at our school to celebrate their unique qualities and stay true to themselves."
In Charlotte's application she says she discussed the ways the entire 2017 leadership team could work together this year.
"We have a great leadership team to work with. It's got great vibes and energy.
"I think we are all going to work well together this year."
With the school year now underway, both girls say they are looking forward to the first big school activity - swimming sports.
"It's a great chance for the senior leaders, particularly the house leaders, to step into their roles," says Alexandra.
Principal Fiona Green says as well as writing an application letter the head students were selected after an interview, student and staff vote and attending a leadership camp in early December.
"Leadership of our school is by an entire team of students and our Head and Deputy understand and demonstrate the principles of servant leadership and the need to work for and with others to make our school community a better place for the girls, their families and our staff," says Fiona.
The students were welcomed at the beginning of year chapel service on Wednesday morning, presided over by Archbishop Philip, Anglican Archbishop of NZ, supported by the new chaplain reverend Annie Baigent.