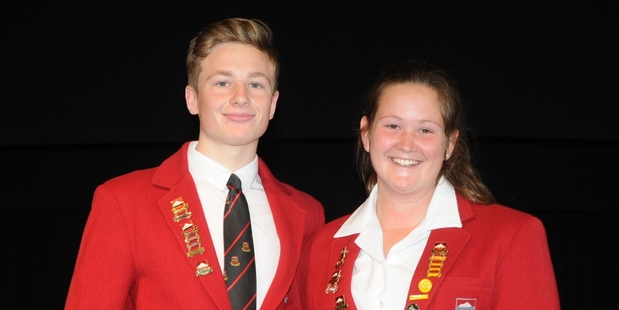 After four years of hard work, Jake Vincent and Olivia Slater have both achieved their goals of becoming head students at Stratford High School for 2017.
Olivia says she had set a personal goal in year 9 to become head girl.
"Since then I have been working towards this goal. I was inspired by previous head girls to strive towards this leadership position, but particularly by my older sister, Hannah." Olivia's sister was head girl and Olivia says she sought advice from her.
"Hannah has always been a leader and role model to me, not only in the position of head girl, but throughout my life. She told me to enjoy the position, make the most of the opportunities it offers and make my own mark on it. To be my own kind of leader."
Jake had also set high aspirations of being named head boy when he first started at Stratford High School.
"I was inspired by the three seniors that were my peer supporters. They were all positive role models for me and made me feel at home quickly in my first year at school.
Since then I have always wanted to be a role model like them."
Jake says he thinks he's suited for the role as he can draw from what he has learned through team sports.
"Rugby, as well as many other sports, involves a lot of communication which you learn through playing. It has also made me a team player, someone who isn't afraid to share ideas and work with people who I haven't worked with before."
The pair also have shared goals when looking ahead for the school's future, with both students wanting to see the school build on their family environment.
"I'd also like to see more engagement among all year levels of the school to continue to develop the family environment, and show the community the pride we have in our school," says Olivia.
"I want to be a good role model for the new year 9s," Jake says. "I would like to see the presence of the school's HEART values increased throughout all year levels as I believe these are the values that create a great environment for learning."