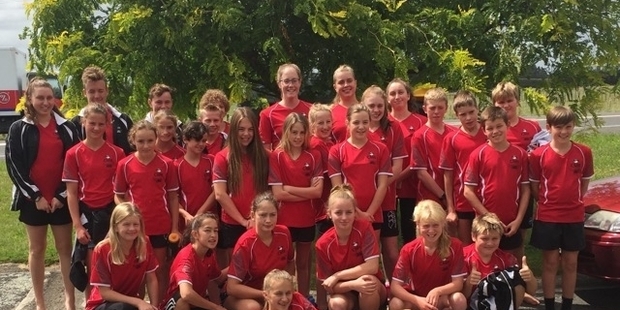 The CMK Stratford Flyers attended the Summer 2017 Wellington Champs from January 20 to January 23.
This meet was very popular throughout New Zealand as more than 600 swimmers from a wide range of clubs travelled to compete. The event has four days of racing in a 50m-long course pool, with a large group of younger swimmers stepping up to this level for the first time. It was great to see the squad swim very well, obtaining a high percentage of personal best times.
Next for the Squad is a busy 11 weeks with swimmers at multiple competitions throughout the North Island. A squad of 35 swimmers representing the 12 and under age group swims in Rotorua at the New Zealand Junior Festival on the 17-19 February. CMK Flyers have seven swimmers competing at the Division 2 Championships in Rotorua on March 6, with eight swimmers qualified to attend the Division 1 National Age group Championships.
In April three swimmers attend the New Zealand Opens event in Auckland.
- Medals: Brittany Taylor 17 yrs, 1st 50 back, 3rd 200 back. Lauree Collins 15 yrs 1st 100 back, 2nd 400 medley, 3rd 50 back, Zarhn Collins 17 yrs 2nd 50 breast, 3rd 100 breast, 3rd 200 breast. Claudia Taylor 15 yrs 2nd 100 free, 3rd 200 free, 100 back, 50 free. Eleanor Gilbert 13 yrs, 2nd 50 breast, 100 breast, 200 breast. Anina Loveridge 11 yrs 2nd 400 medley. Heidi Sextus 10 yrs, 3rd 200 free.
- Top Ten Finalists: Payton Agent, Joe De Coster, Nina Goble, Braiden Higgison, Jack Keller, Ilana Kerr, Eva McGeoch, Pawhare Packer, Alina Zabel, Luca Zabel, Cormach Hughson- How and Katie Sinclair.
- Personal Best times: Emma Baldock, Meg Baldock, Bella Hancock, Skie Higgison, Dylan Kowalewski, Alex McGeoch, Dani Poulsen-Cook, Abbey Sextus, Oliver Tippett, Arnika Watson, Pascoe Wells and Richmin Hughson-How.