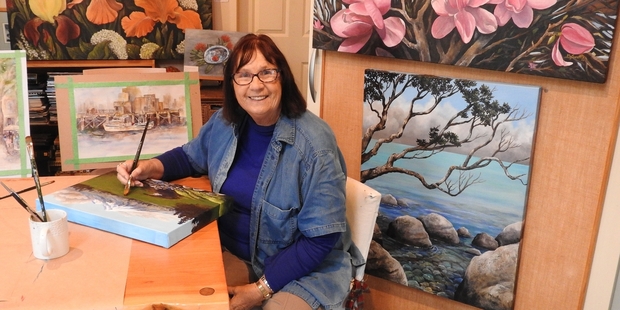 Oakura artist Margaret Scott will be featured in a special retrospective exhibition at Percy that opens at Percy Thomson Gallery this Friday night at 7pm.
Titled A Sense of Place, the exhibition spans more than 50 years and includes one of Margaret's earliest works, a landscape painting created using food colouring and shoe polish, the only medium available to the young girl who wanted to paint.
Margaret, in her latest book Self Portrait of a Paua, recalls how she would drive along the coast with her mother, peering out the window and wishing she could paint this or that.
"Through painting I found my identity, a voice separate from my older brothers and sisters," she writes.
Margaret was born in Opunake, the youngest of seven, and has lived all her life on the Taranaki coast.
She now resides in Oakura where she paints and runs classes in her purpose-built studio.
Margaret describes her work as "personal symbolism", as it is based on personally acquired and assimilated experiences of her life and the environment in which she lives.
Margaret and husband Ian dairy farmed for 35 years where they raised a family of four. Margaret worked alongside her husband and painted when time allowed. Her well-known paintings of cows reflect this time in her life. She taught polytechnic and art night classes in the early years when her children were young.
Margaret says her style of painting has evolved and developed as her circumstances have changed.
Shellfish such as paua, and the sea, feature strongly in her work as it symbolises the memories of her childhood growing up on the coast at Oaonui.
"When I was a child our large family depended on paua as a food source. The tides were carefully watched and at full moon, especially when there was a king tide, our family would go down to our special spot with kete and sugar sacks."
Used shells found a home in the corner of the garden and Margaret used to stare at them and liken them to jewels.
Some of her earliest paintings were bush scenes and were sold in her first solo exhibition held at the Kaponga Swiss Club in 1983.
A popular series depicts the remains of the Gairloch, a steamer wrecked on the Oakura reef in 1903.
Her current work often focuses on the views she has of the Kaitaki Ranges and the native plants in her garden such as nikau, puka, flax and cabbage trees, and of course, the beautiful views of the sea. Her environment is an abundant resource for creative ideas.
Margaret paints mainly in acrylics, does some watercolours, but also loves mixed media and creating textural works. The exhibition opens Friday, February 3. Margaret will also be giving a floor talk on Sunday, February 5 at 1pm.