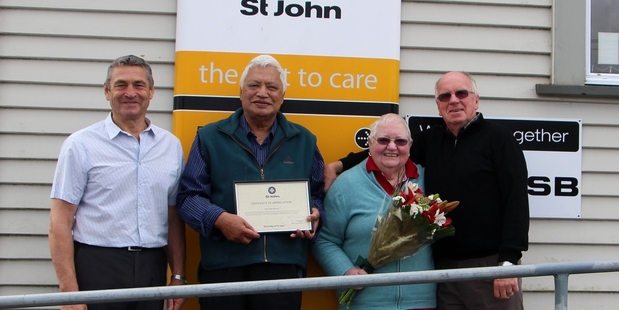 For nearly 30 years, Angus Nuku has given his time as a volunteer for St John in Stratford.
Angus has been a common sight around Stratford, attending various community events such as rugby games and speedway meetings, as well as attending emergency callouts.
It was therefore the end of an era for Angus when he retired last month, and was formally thanked and farewelled by fellow volunteers and committee members at an afternoon tea in December.
"Angus will be missed by everyone involved with St John in Stratford and throughout the region, as he has given his time to support so many groups and events," says Peter McDonald, president of the St John Stratford committee.
"We will all truly miss his knowledge, history and dedication to St John," he says.
Angus was made a member of the Order of St John in 2000 and was the secretary of the committee from 2014-2016.
Peter says the afternoon tea provided colleagues past and present with the opportunity to recognise Angus for all he has done through the years.
Angus addressed those who were at the farewell afternoon tea to share fond memories of his time with St John.
"I have loved my time with St John and all the wonderful people I have met and worked alongside with.
"However, it is now time for me to spend more time with my wife Margaret and take care of her."
The committee presented Angus with a certificate of appreciation for all his dedication with the organisation.
They also presented Margaret with flowers.
"We wanted to present Margaret with a token of appreciation too, as she has missed out on time with her husband while he focused on the health and safety of our whole community," says Peter.