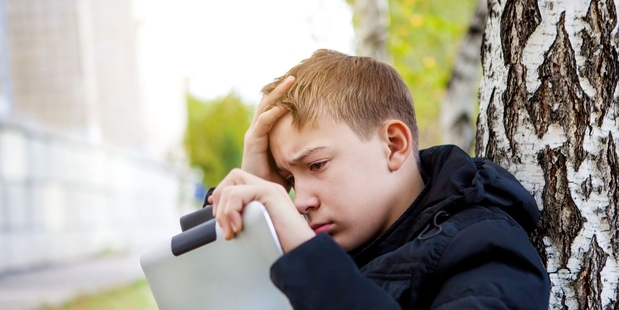 Buying a new device for your child might have been top of the Christmas list in your household.
But as Stratford High School principal Philip Keenan points out, "you can buy an anti-virus software to protect the device, but you can't buy one to protect your child from cyber bullying".
He says schools around the country and all over the world are struggling to deal with the serious problem of social media-based bullying.
With the dramatic increase in internet and social media use through recent years, children are now being bullied in all locations, at all times.
Philip says in the past, bullying happened in playgrounds, in parks and neighbourhood streets only when children were in direct contact with the bully.
"The bullying was physical or verbal, but was limited to when the victim was in the same vicinity as the aggressor. Not to downplay the impact of any bullying, but it is certainly harder to deal with, as a victim, parent or teacher, when the bully can now target their victim anywhere, at any time."
"We can ban cell phone use in school, and we have blocked Facebook from our school servers for example. But it doesn't take much intelligence for a student to sneak a phone in and with their own data access whatever they want from it out of sight."
Not only does social media make it easier for bullies to harass their victims, but the information can follow someone around for ever.
"Students think a photo on Snapchat disappears after a short while, but someone can screenshot it and it will be around for ever," says Philip.
"You send a photo or message to one person, and they send it to two, then those two people send it to another two each. Soon your private message is being viewed by a lot of people." Philip says as soon as you have hit 'send' you lose control of that image.
"Your Facebook is not as private as you think."
Philip says parents often think that because their child has added them as a 'friend' on the social media site, they can see everything their child is posting.
"Young people have far more intelligence than they are given credit for and they are quick to learn how to manipulate and use apps and programmes to their advantage. Facebook offers users the ability to hide content from some people and to target their posts to specific people."
Philip is not saying young people should not be using social media or electronic devices such as phones as tablets.
"But we need to work together, as teachers, parents and young people in educating ourselves on how to use the new technology wisely and safely. We need to learn what the risks are and how we can manage them."
One simply piece of advice Philip gives parents is to take their children's devices off them at night time.
"Take phones and tablets away at 8 or 9pm at night and give them back the next morning. They don't need to check their Facebook, Snapchat or other apps all night and a simple clock or watch tells them the time just as easily as their phone."
Taking devices away at night will have a positive impact on learning, says Philip.
"Kids are getting tired in class because they are up much of the night online. Reducing that screen time will help them learn better."
Stratford High School has worked hard to educate their students about responsible social media use, says Philip.
"We have hosted NetSafe in school to talk to students as well as parents for example.
"Frustratingly, we didn't have as many parents attend as we would have liked. Parents need to confront the issue and make sure they learn about the apps and programmes their children are using."
With new apps appearing daily, Philip says teachers have to constantly update themselves on what is available to their students.
"From photo sharing sites to ones where people are encouraged to rate each other on their looks, there is always something new out there which opens up a new risk to our young people. Education is the only way to make sure social media is a valuable tool rather than something that is abused and increases bullying."