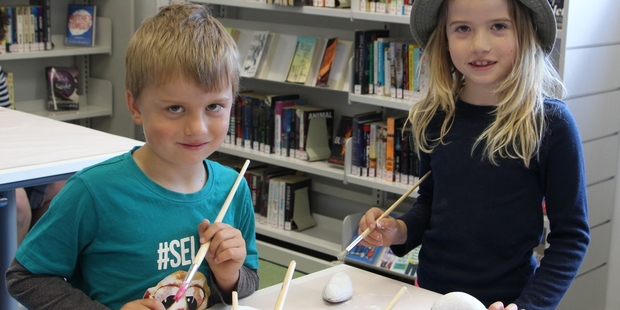 "It's better than that Pokemon Go game."
Brett Inglis says his children love the rock painting and hiding activity that is currently gaining popularity around the country.
Since first discovering the local group Taranaki Rocks on Facebook, Brett says Lauren, 7, and Flynn, 5, have loved getting outside and hunting for the painted rocks hidden around the area.
"As soon as we get to a playground they are out the car and running around looking for the rocks," he says, adding he is just as hooked on the game as they are.
"It's a great way to spend some time with them and we have had lots of fun finding the rocks."
Brett and his two children came along to a rock painting activity at Stratford Library on Friday last week, to decorate more rocks ready to take away and hide in parks and playgrounds around the region. The library provided the paint and children provided the rocks for the fun activity aimed at encouraging more youngsters getting outside and enjoying the game.
Lauren says she likes finding all the differently designed and painted rocks, and liked painting ones with love hearts on herself.
Her younger brother Flynn says he likes making patterns on the rocks he paints.
"And hiding them for people to have to look really hard to find them."
Find out more about this fun game: visit Taranaki Rocks on Facebook.