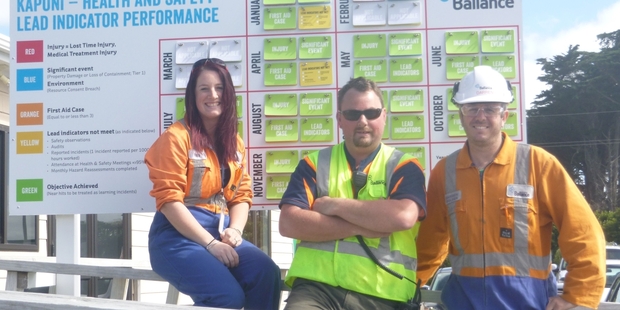 Taranaki charities are reaping rewards of the top safety efforts by the team at Ballance Agri-Nutrients' Kapuni ammonia urea plant, with 11 charities in the region receiving a total of more than $25,000 in donations last year.
The Ballance safety cross initiative seeks to recognise staff efforts in preventing harm to people, plant and environment, by donating money to charities every month that safety and environmental performance targets are met.
Ballance Kapuni site manager Steve Parry says in 2016 they were able to make a difference to 11 local charities by providing them with a donation of $2000 or more.
"Not only does the safety cross scheme ensure high safety standards are maintained and our people are kept safe, there's a real feel good factor about making a positive move for our local community," says Steve.
He says the scheme is an extension of a successful programme implemented at the Kapuni plant during the major turnaround season in 2013.
To encourage safety awareness while undertaking maintenance and inspection of the plant, workers raised money for charity every time they met daily safety targets.
"In 2014, we implemented the safety cross for normal operation all year round at Kapuni. Today it is being accepted Ballance wide. This demonstrates great safety leadership by the Kapuni team."
Steve says many of the charities that have benefited from donations since the scheme's inception have a close personal connection with the Kapuni plant staff, a lot of whom spend their time outside of work helping the organisations.
Technical and quality co-ordinator Rachael Krutz nominated Alzheimer's Taranaki to be a recipient this year after experiencing first-hand how valuable the organisation is.
"My mother was diagnosed with early onset dementia at the age of 52 and the team at Alzheimer's Taranaki supported our family through a very difficult few years," says Rachael.
"After we met the safety standards in May we were able to give Alzheimer's Taranaki a donation of $2000. It's comforting to know that will go towards much-needed support for other families in Taranaki who are affected by dementia as well."
Steve says another benefactor was Okaiawa Volunteer Fire Brigade, who received a $2000 donation after the Safety Cross was met in August.
"For a small group of volunteers this amount of money can have a significant impact to the way they operate and Ballance is delighted to support the valuable work they do. We have many volunteer fire fighters here at Kapuni and it is a pleasure to be able to give back," says Steve.
Other recipients of the Safety Cross this year include Rural Support Trust, Taranaki Suicide Prevention Group, We Heart Taranaki, Taranaki Kiwi Trust, Jackson West Little Fighters Charitable Trust, Taranaki Women's Refuge Charitable Trust, Prostate Cancer (Taranaki branch), Taranaki Rescue Helicopter Trust and Land, Search and Rescue Taranaki.