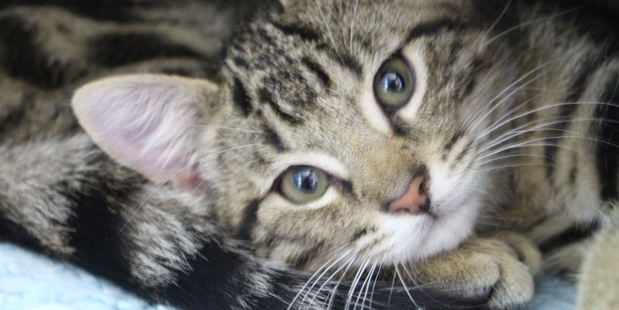 They're cute, cuddly and just downright adorable, but it would be great if there were less of them overall, says Karma Andrews about the latest kittens to hang out at The Scratching Post in Stratford.
While MJ, Chopper and Radar are sure to win hearts with their "awesome" personalities, Karma Andrews, a trustee of the charitable trust behind The Scratching Post, says there are plenty more kittens in need.
"For every kitten we are able to take in and rehome, there are numerous other ones out there that miss out."
Last week alone the trust could have taken in 14 kittens in one day if they had the resources and space, says Karma.
"Many of the unwanted kittens are the result of someone having had a cat which they haven't had desexed because of cost, and so have ended up with more cats than they wanted.
It is for this reason the trust has introduced its community cat desexing scheme, which is running again this year.
Karma says the scheme offers discounted female cat desexing for cat owners who have a community services or gold card and live in the Stratford District.
"We encourage people to call into The Scratching Post to apply for the scheme, or simply to find out more about it."
Karma says the store on Broadway has been busy during the school holidays, with MJ, Radar and Chopper getting lots of attention from the younger visitors to the shop.
"The three kittens love all the attention. They come right up to talk to the children. They really do like company."
Karma says the three tabby kittens were found, along with their sister, on a rural property six weeks ago.
They were taken in by the team at The Scratching Post and placed in foster care until they were old enough to be rehomed.
Their sister was the first to be adopted, leaving the three boys to play together while they wait their turn.
"They were fostered in a home which has other cats as well as dogs," says Karma. "So they are used to other animals and household noises or barking. They are really social and love children. It is testament to the great work of their foster carers as to how friendly they are, they are going to be fantastic companions for whoever adopts them."
The kittens come into The Scratching Post every weekday the store is open, and Karma is hopeful they will all soon be adopted.
"They are all lovely kittens and are going to grow up to be fantastic companions. All of them are very cuddly and seek out human attention, so if anyone is considering getting a new pet cat, please call in and have a look at the boys."
The Scratching Post, 259 Broadway. Donations always gratefully received. Open Tuesday-Friday, 10am-3pm and Saturdays 10am-12.30pm. Kittens in store Tuesdays-Fridays.